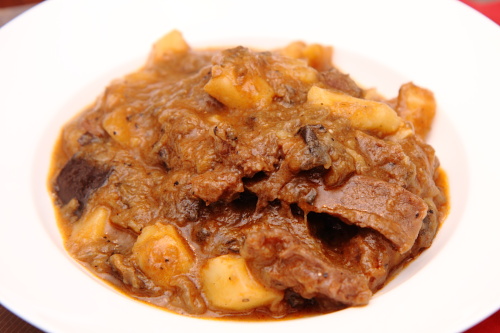 Leftovers and stuff that needs to be eaten or tossed in the fridge often lead to somewhat creative new dishes. Ot at least for me they do.
Please note my latest creation, moussaka stew.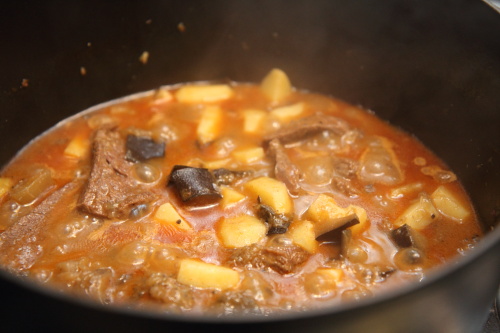 If you like eggplant, cheese, potatoes and ground beef, there's no going wrong with moussaka. If you still have a big chunk of stew meat, eggplant, a package of passata and some pantry staples, you can make moussaka stew.
Unfortunately I didn't write up the exact recipe. I never thought it'd turn out this good. It was literally just some stuff that needed to be finished. The approximate recipe is as follows.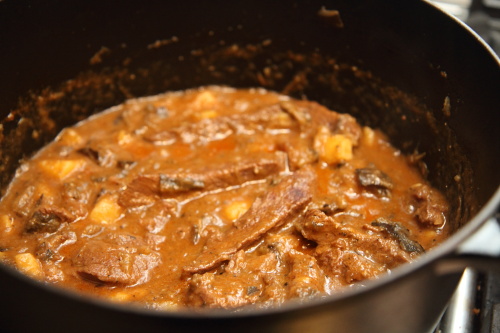 [print_this]Moussaka stew

some stew meat
an eggplant
a package of passata di pomodoro, tomato sauce
some potatoes
garlic and onions if you have them
some parmigiano, grated
flour for dredging
olive oil

In a Dutch oven or other heavy bottomed pan, brown dredged stew meat in some olive oil. Add onion and garlic to cook them a little. Add the passata di pomodori and let this simmer long enough to get the meat cooked and tender. In the mean time cut up the eggplant and place in a colander with a generous amount of salt sprinkled over to pull out the bitter juices. Peel your potatoes and cut up in stew sized chunks. About 30 minutes before dinner time, add the potatoes to the stew (make sure they're fully covered with sauce, so they can cook, add water or a diluted beef broth if needed.) 10 to 15 minutes later rinse the salt off the eggplant and add the eggplant to the stew. Cook until the eggplant is tender and the sauce has thickened. Sprinkle a generous amount of parmigiano into the sauce, stir well and serve. Yummm, moussaka stew!!!

[/print_this]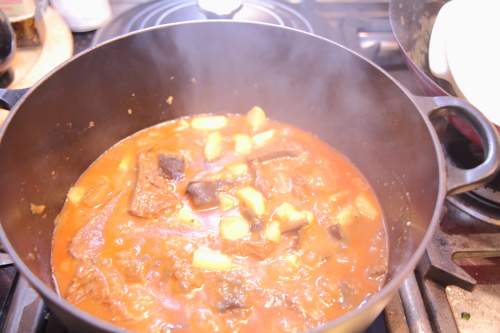 P.S. Laurens referred to this stew as spezzatino. It totally reminded him of the spezzatino his mom used to make. A stew with potatoes and peas. He missed the peas, but still liked the dish :-)
Would you like to get in touch, please don't hesitate to contact me via

my contact form.

Latest kitchen talk

Translate this blog

but don't expect it to make perfect sense!