While Laurens was in New York for business, I attended a cake decorating workshop one evening. The reason I liked the sound of the workshop, was because it covered tiered cakes and fondant decorating. Both things I just hadn't been wanting to try on my own. Sure, I had all the tools I needed at home. Ingredients too. But something held me back, made me want some instruction and tips.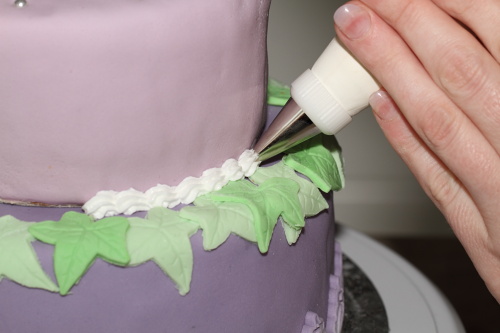 The class started with everyone receiving 2 already baked sponge cakes and bowls of buttercream and preserves. Since I don't eat fruits, I skipped the preserves, and after I torted the cakes, I filled them with the delicious vanilla buttercream.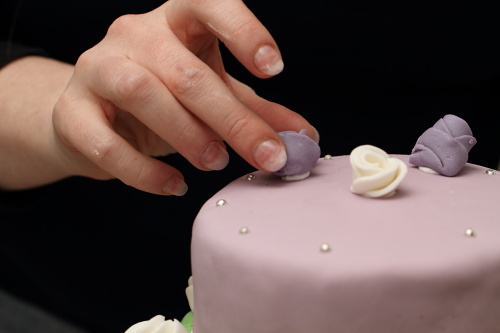 After some instruction we all crumb coated our cakes and put them in the fridge to stiffen up, while we received info on how to color and handle our fondant.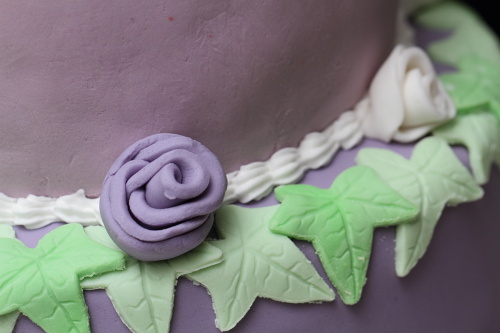 I decided on a two-toned purple cake, with rose and ivy decorations. After coloring my fondant and covering my cakes, the instructor taught me a quick and easy trick to make cute little roses. She had some cutter/stamp-tools, which I used to cut our the cutest little ivy-leaves from 2 different colors of green fondant. I also stamped and cut out a cute bottom border.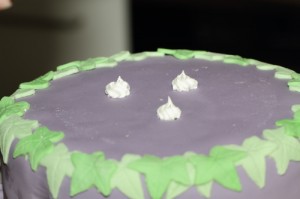 I packaged the cakes separately, after the instructor showed me how to put the dowel rods in and how to assemble the cake. She was doing decorative borders of royal icing around other student's cakes. Since I knew I wasn't going to eat it right away, I knew I had to freeze it, which meant I couldn't stack the cake just yet. The teacher gave me some simple tips to decorate/hide the border, but I figured those royal icing borders looked cute, and convinced her to show me how to get them nice and even. Turns out the trick is way easy and after I figured it out I was confident I could assemble and finish the cake in my own kitchen.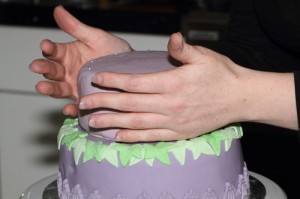 And so I did, today, after having had the unassembled cake in my freezer for just shy of 2 weeks, I made my royal icing and assembled the cake. I glued the roses on with some icing, I made a nice border and looked at my cake in amazement.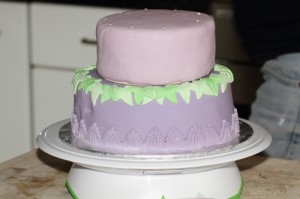 I couldn't and can't believe this is the first real decorated cake I've ever made. Sure, I've written names on cakes before, using whipped cream or such, but I'd never actually decorated one. Certainly not using fondant and royal icing.
We're taking the cake to my in laws tomorrow and I wonder what they'll say. Last time we brought something home made, they wondered where we'd bought it. I wonder what they'll say now!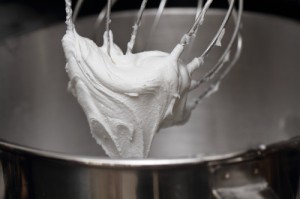 Would you like to get in touch, please don't hesitate to contact me via

my contact form.

Latest kitchen talk

Translate this blog

but don't expect it to make perfect sense!