Gnocchi (plural, pronounched njok-key, with a short-sounded o, the singular is gnocco – njok-koe) are little carb-clouds from heaven.  Mix some carbs with a bunch of other carbs and you get something so incredibly tasty, that you wonder why anyone, ever, would choose to omit carbs from their diets.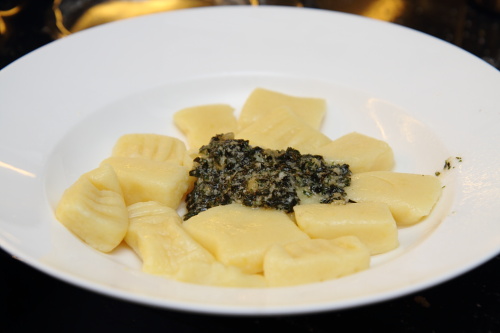 I've mentioned it here before, I couldn't do without carbs. First off for health reasons; my body (and any body, really) needs carbs. But the true reason I can't give them up, is because they taste so dang good.
Pasta, potatoes, bread. I love my carbs. They make me happy. I could give up sugar and chocolate (but I won't since I'm no quitter!) but I could never give up pasta, bread or potatoes.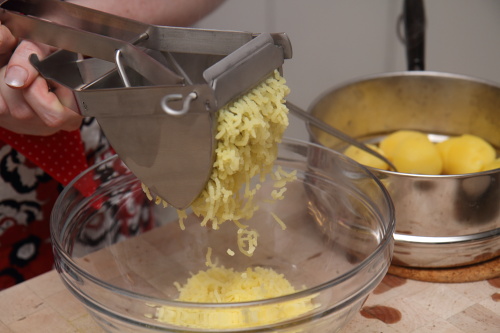 Gnocchi (please, humor me, and don't say gno-tchee) are little italian noodles made from steamed potatoes and flour. You add a lightly beaten egg to bind everything and – as always with home made pasta – you add a pinch of salt.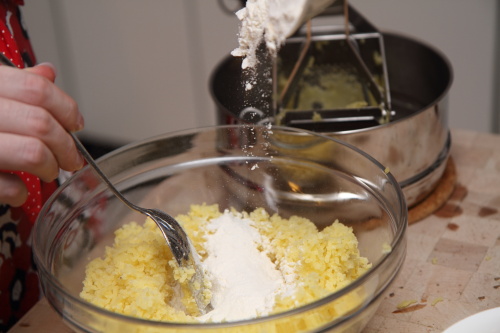 The trick in making good gnocchi is in the flour to potato ratio. Use too much potato, and your gnocchi will fall apart during boiling. Use too much flour and your gnocchi will be too hard or chewy. There is still some wiggle room though. When I made my batch I boiled and tried the first bit and found them a little too fluffy, they needed a slight bit more 'chew', so I added a bit of extra flour, which made the dough more manageable and made the final gnocchi even tastier.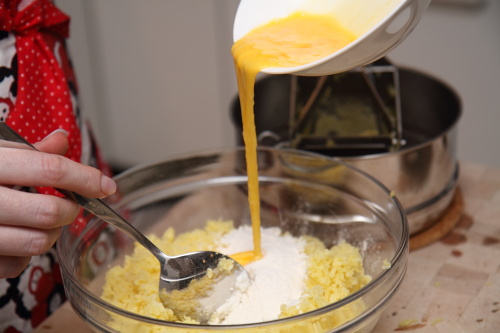 To make the best gnocchi, you need to steam your potatoes. Steamed potatoes generate a fluffier gnocchi, and more importantly, less watery. Also, if you have a potato ricer, use that! Mashed up potatoes can stay a little lumpy, which in turn will turn our lumps of potato in your gnocchi – not the optimal results if you ask me. Riced potatoes are the easiest to blend.
You need to make your dough while the potatoes are still warm. Don't ask me why, you just have to. I guess it has something to do with the binding properties of potato, flour and egg that is better with some heat. I just know that it works better. Just make sure you are careful when kneading. Don't burn your hands. If it's still too hot to touch, mix with a spoon before you knead, burnt hands will not make your gnocchi taste better, but they will hurt. So be careful!
I worked through my dough, made little dough-snakes, cut the dough into the correct size and pushed a fork into the gnocchi to make a little bit of a ribbed side on them. Apparently you can buy special gnocchi boards for that, but since Laurens' mother and grandmother – women who've been born and raised in Italy – both use forks, I don't see why I would need a special board.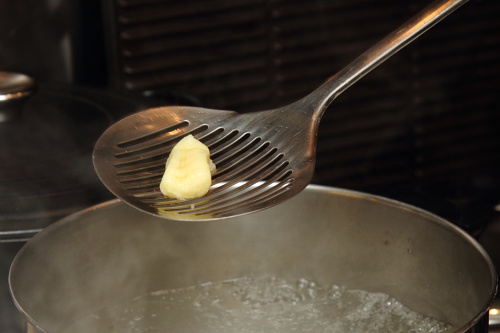 The end results weren't the prettiest gnocchi you've ever seen. But that's what you get with home made products. They're rustic and bold and have enormous taste, but they're not all exactly the same. They don't need to be.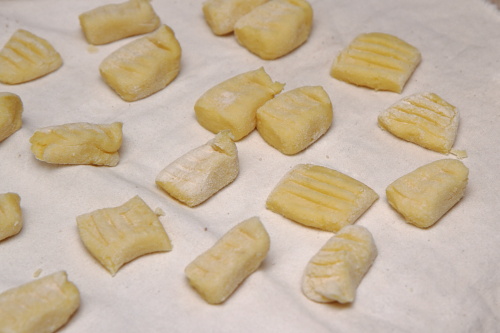 I served our gnocchi with pesto, but any sauce will do. Just make sure the sauce isn't too heavy and you don't use too much sauce. The gnocchi – despite being fluffy – will fill you up quick enough. And if you're not a dork with time-management issues (which I totally am) you'll still eat veggies and a protein dish as well, so you don't need to overstuff yourself.
Enjoy!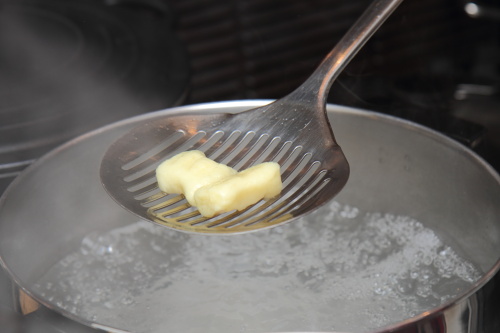 Gnocchi di patate – basic recipe (I halved the recipe)

1000 grams of potatoes, peeled, steamed
300 grams of plain flour (preferably AA or semolina)
1 egg, slightly beaten
a good pinch of salt

Peel and steam your potatoes until tender. Rice the potatoes while hot, into a bowl. Add the flour, mix, then add the beaten egg and salt and knead until you have a pliable, uniform dough. It might be a little sticky, but if there's more on your hands than in the bowl, ass a little more flour, a teaspoon at a time, until you have a consistency from which you can make 'dough snakes'.

Roll the tough into long logs, about 1/2 to 3/4 inch in diameter. Cut into little pieces, about as long as the outer digit of your thumb (so the gnocchi are about the size of the upper part of your thumb now). Push a fork into the side of the gnocchi while making somewhat of a rolling movement. Lay the gnocchi to rest on a clean tea towel and continue with the rest of your dough, until all your dough has become gnocchi.

Bring a large pot of salted water to a rapid boil and drop some gnocchi into the pot. Make sure the gnocchi don't completely crowd each other, as that'll make them stick to each other. Gnocchi are done when they float on the water. Use a slotted spoon to remove the floating gnocchi and add more uncooked gnocchi to the pan. Once all gnocchi have been mix with some sauce and serve warm. Buon' apetito!
Would you like to get in touch, please don't hesitate to contact me via

my contact form.

Latest kitchen talk

Translate this blog

but don't expect it to make perfect sense!