While in Milan my in laws took us to their favorite neighborhood restaurant. When looking at the menu, Laurens knew what I'd order as a primo before I did. He spotted the risotto alla Milanese on the menu and figured I'd want to eat that in Milan, just so I could compare my own version.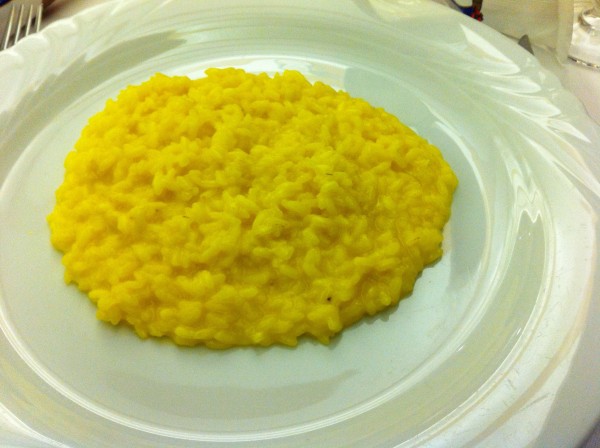 Him handing me his iPhone (which takes way better pictures than my phone and I hadn't thought to bring a camera to the restaurant) resulted in wondering stares from not only our own table, but other tables as well. Why the heck would you want to photograph your risotto?
The verdict: Hot Meeting's risotto was fabulous. The grains of rice were full bodied, flavorful, just done enough, with a beautifully balanced amount of saffron, good quality stock, parmigiano and butter. It was creamy and wonderful. Simply presented as a little yellow circle on a big white place. Elegant simplicity at it's best. And the best part – for me personally – my own risotto comes pretty close in taste and texture.
Hot Meeting at the corner of Via Sansovino and Via Fillippino Lippi (At Piazza Gian Lorenzo Bernini) was the first 'new' restaurant we tried this year, thanks to my parents-in-law. This puts me 1 restaurant into this year's goal of visiting 4 new restaurants. And to finish up the review, my steak was wonderful as well, the house wine was fine, nothing extraordinary, just a good glass of white. Our whole party was pleased with their food, between the several fish and seafood dishes, the veal cutlets and the gnocchi alla sorrentina eerybody enjoyed their dinner. We skipped dessert, but did have coffee and a limoncello, which was the perfect ending to a very nice dinner. Hot Meeting is slightly less of a romantic setting than Tarantella, which I reviewed before. The food they serve is more the standard Italian fare, but there's absolutely nothing wrong with that. The quest for good quality products and balanced tastes is ever present in Italian cuisine, so if you're not looking for a romantic candlelit dinner, but just good quality Italian food with friendly service, Hot Meeting sure is worth the visit.
Would you like to get in touch, please don't hesitate to contact me via

my contact form.

Latest kitchen talk

Translate this blog

but don't expect it to make perfect sense!