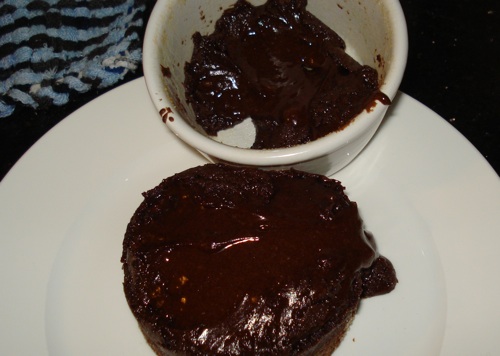 I felt like chocolate. Correction, I needed chocolate. To get me through the evening.
Not that the day had been particularly busy, but I needed chocolate. I was craving chocolate. The world was possibly, probably going to end if I didn't get my chocolate.
I didn't have any chocolate. At least no readily edible chocolate. And it was past store-closing-time. Besides that, it was raining. Very very hard, so even the walk to the night shop wasn't a real option.
Still, I needed chocolate.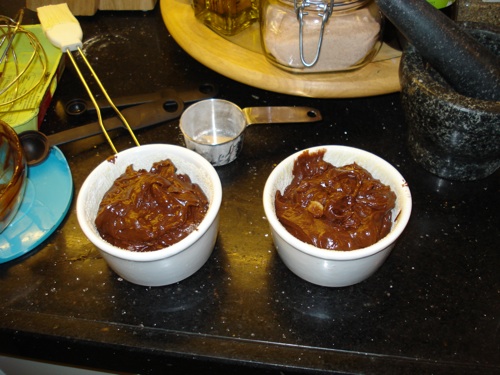 The solution, a molten chocolate cake. Once I thought of molten chocolate cake, I knew that it wasn't chocolate I craved, it was that specific chocolate cake. I craved a cake that so far, I'd only ever eaten in restaurants. But I really needed it. I had to make it. I couldn't help it.
We had leftovers for dinner, so I had all the time in the world to figure out how to get my hands on that cake. Especially since L wouldn't be home for another hour or so.
I went online to search for recipes. All recipes were different, but most of them asked for the same ingredients, and partially the same prep method.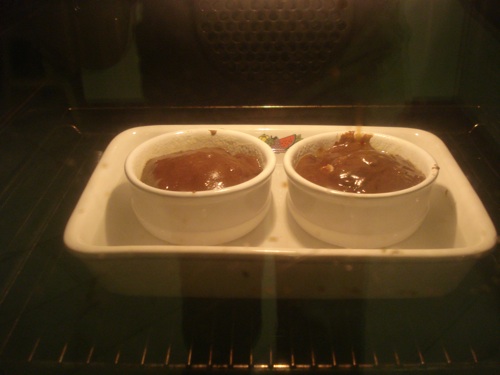 I didn't feel like separating eggs, I don't know why. I didn't really feel like measuring either. I figured I'd just try something. I guess my  bout of 'no-recipe-baking' just hasn't come to an end yet.
Now I wish I had measured. Or at least written down what I added, and how much of those things. How come I never learn? I feel that way every time I bake something without a recipe.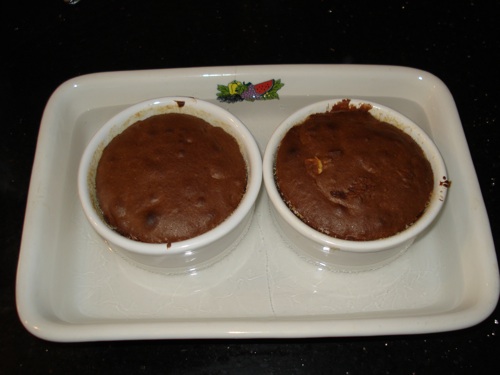 The molten chocolate cakes were divine. They coul'd've used a couple more minutes in the oven, so they would've set a little more on the bottom. It was a bit of overkill on the 'molten' part. Which made them look less-than-perfect.
But the taste, the texture. It was divine. It was exactly what I had craved. It was just what I needed.
The leftovers had leftovers that night, but I was satisfied.
Long story short, no exact recipe today. Maybe some other time, when and if I'm able to recreate it.
For now, I leave you with just the ingredients without measurements, and the method used. Just give it a try, see if it works, 'cause if it does, your tastebuds will thank you!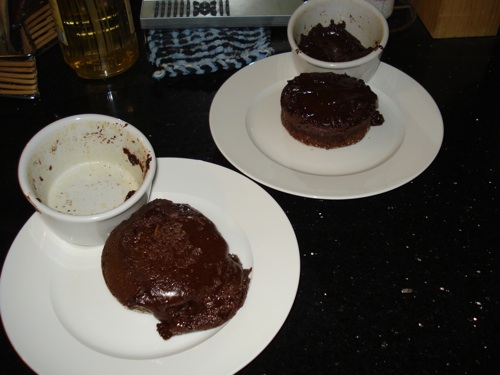 [print_this]

Molten chocolate cakes

dark bakers chocolate
butter
cocoa powder
sugar
eggs
a hint of vanilla extract
slivered almonds
all-purpose flour

Start out by melting the butter and chocolate together (30 second intervals in the microwave), let it cool down a bit. Mix sugar and eggs, add some cocoa powder, then the butter and chocolate mixture. Add a tiny bit of vanilla extract. Mix in AP-flour to make a medium-thick batter. Stir in some slivered almonds, just because you can!
Divide batter over ramekins, which are placed in a casserole with water in the oven. Set the oven fairly high, 200 to 220 degrees celsius, and bake for 12 to 15 minutes, or until it's not fully cooked on the inside. (there's no surefire way to check this, or at least I haven't found it yet. If you make sure, by feeling, that the top is fully cooked, you can serve it and have lots of 'molten'stuff which is the best part anyways!)
Remove from oven and invert ramekins onto a plate and serve (would be very good with fresh whipped cream or ice cream). Next time I might just serve it in the ramekin, more like a chocolate soufflé.
Enjoy!

[/print_this]
Would you like to get in touch, please don't hesitate to contact me via

my contact form.

Latest kitchen talk

Translate this blog

but don't expect it to make perfect sense!