What to do when you have the ingredients for taco's, but the weather is awful? Instead of taco's, you make a taco pie!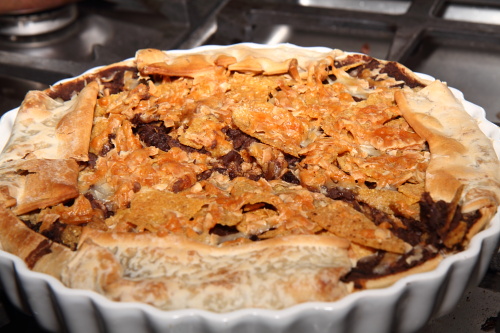 This NaBloPoMo thing isn't working out for me very well. Now it's even been 2 days of no posting. It's really not that I don't want to. Life has just been a little on the hectic side. With both our cars broken down, lots of work, not enough sleep and a house that's still not finished (is a house ever finished?) I prioritized cooking and eating over blogging about it. It stinks, I know, I blame myself. However this blog is supposed to be fun and not a chore. So my NaBloPoMO ia not going to be about posting every day anymore. It'll be about posting when I can and want to.
In the mean time I did do some wonderful cooking, and L did take some pictures, so eventually you'll hear all about it.
First things first though, taco pie.
The cold and dreary weather that seems to have settled on annoying me, made it impossible for me to get excited about taco's. Strange but true! At the same time a nice pie sounds just wonderful to me on those days. Combine the fact that you have all (or most) of the ingredients to eat taco's with the craving for something heavier, and there's taco pie.
I found this recipe on some tv-related-non-cooking-forum a number of years ago and have been tweaking it ever since. It's different each time I make it, but it always has the same basics. Ground taco seasoned meat, and beans in a puff pastry crust with taco chips between layers.
I didn't have refried beans on hand, but did have a can of black beans, so I put those in a frying pan and smooshed them to obtain the same texture. As I said, the recipe is versatile, so just use whatever you have on hand and make that pie. You tummy will love you!
[print_this]Taco pie (recipe makes 1 big pie!)

1 package of puff pastry
about 1 – 1.5 lbs of meat (ground – I usually use beef or pork, but turkey or chicken would be great as well)
1 can of refried beans
2 hands full of tortilla chips
Grated cheese, as much as you like
taco seasoning, 1 tbsp or more – to taste
Some slices jalapenos (to taste, optional)
Hot sauce, tomatoes, sour cream, guacamole, lettuce or whatever you fancy as a topping (optional)

This is the easiest pie in the world! Repeat after me, this is the easiest pie in the world!

Ground your pork and brown it in a skillet, while cooking add the taco seasoning.
Line your pie pan (I use a BIG non-stick tart pan) with puff pastry. Place the browned pork in the pie pan, this is your bottom layer. Crubble up some corn chips and sprinkle over pork. Sprinkle some cheese over chips. Open your can of beans and smear the beans over the chips as your next layer, then add more corn chips and put a generous amount of cheese on top.
Bake in a hot oven (375 F, 180-190 C) for about 20-25 minutes, or until all the cheese has melted and formed a crust, and the puff pastry is baked.

Top with any taco topping you like and enjoy!

[/print_this]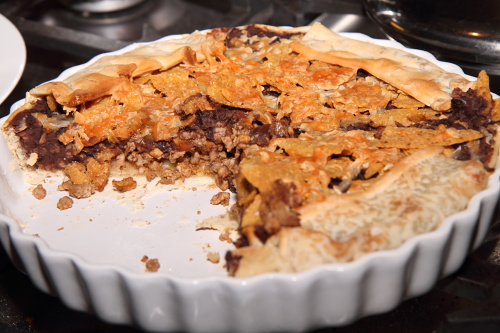 Would you like to get in touch, please don't hesitate to contact me via

my contact form.

Latest kitchen talk

Translate this blog

but don't expect it to make perfect sense!