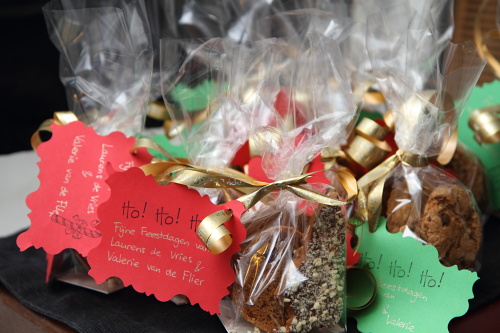 So those recipes I promised you, along with the video of the ginger snaps baking. They've finally arrived!
First, a little story. A fun story. The story of people who love cookies more than what's good for them!
This year I dove into the Christmas baking  big time, with 3 different kinds of cookies, of which 2 types came in different versions. And then there was the 'mock-Enstrom-toffee' that made an appearance as well. Lots of sweets to delight not only ourselves, but plenty of others as well.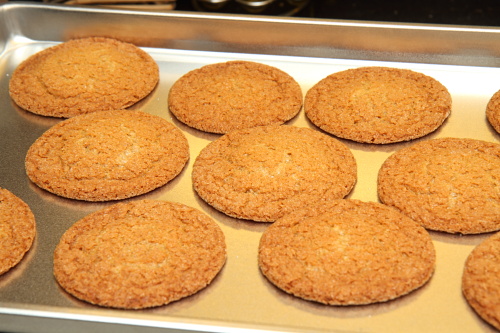 So yes, I was a nice person, a good baker, true to the title and motto of this blog. I shared the goodies I made!
When bringing some to the office, 3 of my co-workers (who have a 6th sense for sweets, they were standing next to my desk before I'd even plated all the cookies and I hadn't told anyone I brought them!) requested that I'd start a tradition of making Valentine's day cookies, Easter cookies, Passover cookies, Queen's day cookies, Ascension day cookies, Summer cookies, Halloween cookies and Thanksgiving cookies as well. In between those special cookies, they'd accept it if I'd limit myself to Monday, Tuesday, Wednesday, Thursday and Friday cookies.
I guess it meant they liked them :-)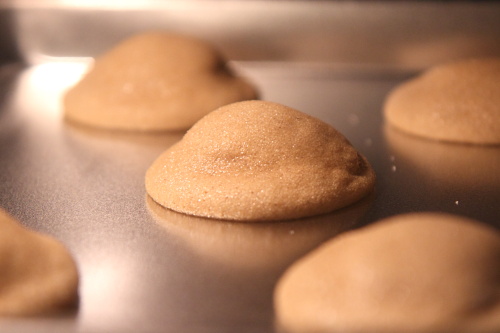 The cookies I opted for  and brought to my hungry, cookie-loving co-workers were chocolate chip cookies with some walnut pieces (pretty much your standard toll house cookie, why mess with a winning recipe), Ginger snaps (courtesy of my friend Amber who got the recipe from Teresa, who's a fellow goddess-mama to our beloved Gracie, the cookies you saw in that film) and oatmeal chocolate chip cookies. The oatmeal chocolate chip cookies had a version with milk chocolate chips and one with white and butterscotch. Please don't make me choose which one I liked better. The ginger snaps came in a soft-and-chewy and a crispy version, which resulted in different tasting cookies along with the difference in texture.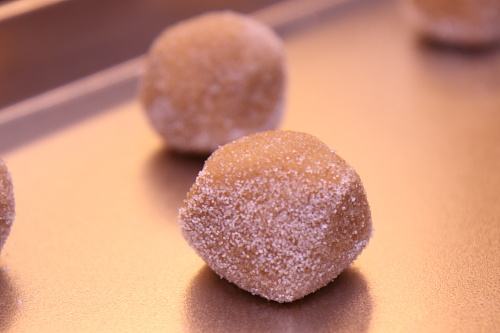 Word of warning to the Dutchies here. The measurements, as usual on my blog, are done with American standard size measurements. Don't try to substitute them for Dutch sizes. a tsp (teaspoon) is really another amount than filling a Dutch spoon you stir your tea or coffee with. While with spices it'll just give you a very bland tasting cookie, it'll be disastrous for the end product if you do that with baking powder or baking soda.
Another word to the wise. Baking powder and baking soda are not interchangeable as some Dutch websites suggest. Baking soda is sold at American/English stores, sometimes at 'toko's' or otherwise at the pharmacy as 'zuiveringszout' or 'natriumbicarbonaat'. Also Dtuch melasse, (molasses) isn't necessarily the same as American molasses. The European version can be fairly strong. If you like that taste, that's fine, otherwise, substitute about half the molasses with a very mild honey. Or that's what David Lebovitz tells us, and who am I to question his judgement?!

[print_this]Chocolate chip walnut cookies (adapted from the Nestlé Toll House cookie recipe)

1 cups + 2 tbsp AP flour
1/2 tsp baking soda
1/2 tsp seasalt
1/2 cup unsalted butter
6 tbsp granulated sugar
6 tbsp brown sugar (I use a mix of dark and light brown sugar)
3/4 tsp vanilla extract
1 egg
1 cups chocolate chips (I prefer milk chocolate for my choc-chip-cookies)
a big handful walnuts, roughly chopped

Cream butter and sugars, add egg and vanilla. Sift flour, baking soda and salt together and slowly add into the mixture. Mix well. Add in the chocolate chips and the walnuts, make sure they're evenly mixed throughout the dough.
Preheat oven to 375 F (185 C), using a cookie scoop or 2 spoons place even-sized little heaps of dough on a cookie sheet and bake for 10-12 minutes until nice and golden brown. (around 10 minutes for a soft, slightly chewy cookie, around 12 for a slightly crispier cookie).
Let the cookies cool on the cookie sheet for about 2 minutes, then move them to a cooling rack to cool completely (if you can resist eating a warm cookie, that is!)

[/print_this]

[print_this]Ginger snaps (adapted from Teresa and Amber's recipe)

3/4 cup unsalted butter
1 cup sugar
1/4 cup molasses
1 egg
2 cups flour
2 tsp baking soda
1/2 tsp salt
1/2 tsp cloves
1 scant tsp ginger
1 tsp cinnamon
1 good pinch of finely ground (powdered) black pepper

Cream butter and sugar, add the molasses and the egg, then sift in flour, baking soda, salt and spices and mix well. Shape into balls and roll in sugar (do not flatten) bake on an ungreased cookie sheet at 350 F (175 C) degrees for 10 – 12 minutes. If you like them even spicier (try one cooled of cookie first!) add some more ginger and pepper to the sugar which you toll the dough in. Cool on cookie sheet for about 2 minutes, then move to rack for complete cooling. As with all cookies, a shorter cooking time will give you a chewier, softer cookie. In this case, the soft cookie will really taste different, a lot more 'molassessy'.

[/print_this]

[print_this]Oatmeal chip cookies (adapted from a random recipe I found and altered big time)

½ cup unsalted butter
½ cup sugar
½ cups brown sugar (I use a mix of dark and light)
1 egg
3/4 tsp vanilla
1 cup flour
¼ tsp salt
½ tsp baking powder
½ tsp baking soda
1-¼ cup regular oatmeal (not the instant stuff)
a good handful pecans, chopped
heaping 1/2 cup (milk) chocolate chips
heaping 1/4 cup white chocolate chips
heaping 1/4 cup butterscotch chips

Cream butter, sugar and brown sugar, add the egg and vanilla. Sift the flour, salt, baking powder and baking soda into the butter mixture. Mix well, then add in the oatmeal. Add the pecans and mix well.
Divide the very thick dough in 2. Add milk chocolate chips to the first half of the batter and white and butterscotch chips to the second half.

Roll the dough into small balls, (large walnut/ a bit smaller than golfball size), bake at 375F  (185 C) degrees for 12-15 minutes. Let them cool on the cookie sheet for 2 minutes, then move to a cooling rack.

[/print_this]
Note for all 3 recipes, if the dough is too soft to shape properly, place in the refrigerator for a half hour or so, then try scooping or rolling balls again.
Would you like to get in touch, please don't hesitate to contact me via

my contact form.

Latest kitchen talk

Translate this blog

but don't expect it to make perfect sense!