Currently viewing the tag: "ginger"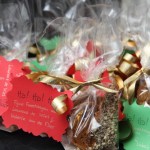 So those recipes I promised you, along with the video of the ginger snaps baking. They've finally arrived!
First, a little story. A fun story. The story of people who love cookies more than what's good for them!
This year I dove into the Christmas baking [...]
Continue Reading

→
The fact that I had a bunch of different evening activities last week, led to an abundance of leftover meats and veggies in my kitchen. Not really leftovers though, more 'food gone unused'. Food that still needed to be used in some way or the other. Food that's changed purpose, over the course of a [...]
Continue Reading

→
Would you like to get in touch, please don't hesitate to contact me via

my contact form.

Translate this blog

but don't expect it to make perfect sense!