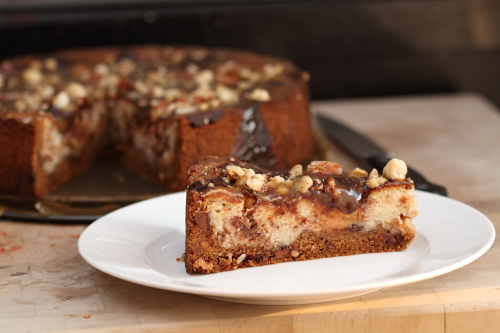 I've written about my first ever attempt at making and eating cheesecake. How it was a huge success and I suddenly realized I like cheesecake. Well, I've done it again.
Now I realize that making cheesecake a second time isn't really an accomplishment worth tooting your own horn about, however, I improved my recipe.
I've improved it so much, that it would be mean not to share it.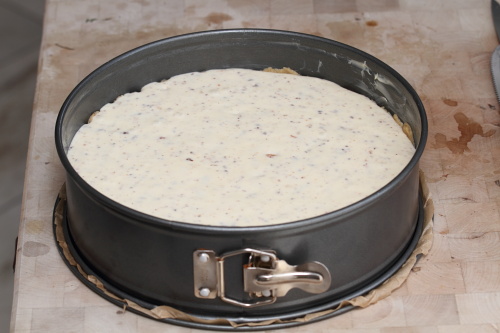 See, my cheesecake is one with chocolate, caramel and nuts. Recently, while browsing through a bunch of other blogs, I read about someone using chocolate chip cookies instead of graham crackers for her crust. It sounded like a grand idea. A grand idea which could however be improved.
How about using chocolate chip cookie dough for the crust. Unbaked cookie cough as a bottom and up the side, filling it with cheesecake batter and baking it to creamy delight.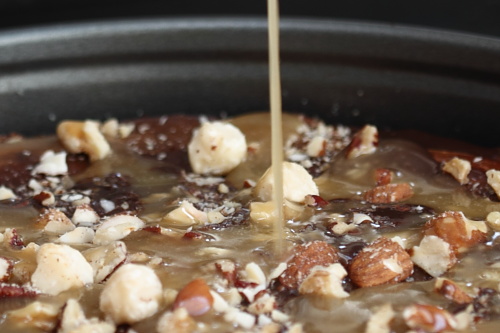 And then, while I was working on my cheesecake (and running back to the store for some forgotten ingredients – it was quite the weekend for forgotten ingredients) I decided to alter the cheesecake batter as well.
See last time, while the cake was very tasty, it was also the slightest bit tangy. Not unpleasant, but I figured that taking that tang out would make it even creamier and smoother. Turns out that (for a chocolate/nuts/caramel cheesecake) I was right. I think I've achieved my ultimate cheesecake batter. I don't think I will, or should, ever alter it one bit. Until I find more improvements that is!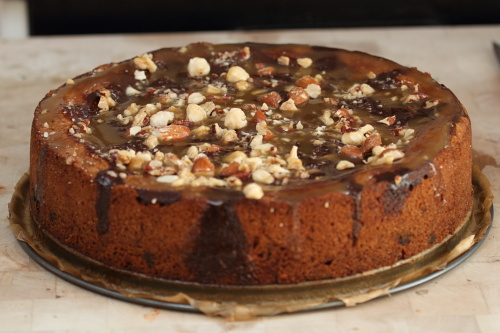 Because google recipes code and/or this plugin and/or maybe even this latest version of wordpress doesn't work correctly, I'll first give you the links to the recipes you need to complete your ingredient list:
| | | |
| --- | --- | --- |
| Cookie-dough-crust chocolate caramel nut cheesecake | | |
Author:
Valerie/Love through the stomach…
Total time:
1 hour 30 mins
This cheesecake is so good, it should be illegal!
Ingredients
For the crust:
1/2 batch of your favorite chocolate chip cookie dough
For the filling:
500 grams of cream cheese
1 cup of sugar
3 eggs
1 heaping tsp of vanilla sugar
3 tablespoons sour cream
2 heaping tbsp of heavy (whipping) cream
about half a cup of chocolate chips, (chopped)
about half a cup of mixed nuts (chopped)
For the topping:
another half cup (give or take a few) mixed nuts (chopped coarsely)
caramel sauce
ganache
Instructions
Make your cookie dough. Line the bottom of a springform pan with baking parchment and butter the pan. Put all the cookie dough in the pan and spread out, going up the sides as well to make a pie shell. Set aside.
In a mixing bowl combine cream cheese and sugars and beat until smooth. Add the eggs and keep beating (scraping down the sides) until it's a uniform mixture. Add sour cream and heavy cream while you keep mixing.
Set your mixer to the lowest speed and add the chocolate chips and half a cup of chopped nuts. Once nuts and chocolate are spread evenly thoughout the batter, pour batter into springform pan.
Bake the cheesecake at 375F for about 1 hr. The cake shouldn't really jiggle anymore. Then turn off the oven, open the door and let it cool off in the oven for about 10 – 15 minutes before you remove it.
Once the cake is out of the oven, spread some leftover ganache (or slightly softened chocolate chips) over the top of the cake, then add the other half cup of chopped nuts on top of the chocolate and drizzle some caramel sauce on top of the entire cake. Let it cool a bit, then move it into the refrigerator and let it cool and set for a minimum of 2 hours.
Notes
I substituted some of the chocolate chips in the cheesecake batter for butterschotch chips. I bet white chips could be good too!
This fills one large springform pan and is very rich.
This recipe is also linked up from Sweet as sugar cookies. Check out the other sweet treats posted there!
Would you like to get in touch, please don't hesitate to contact me via

my contact form.

Latest kitchen talk

Translate this blog

but don't expect it to make perfect sense!