That birthday cake I made for my bloggiversary. I still owe you some recipes.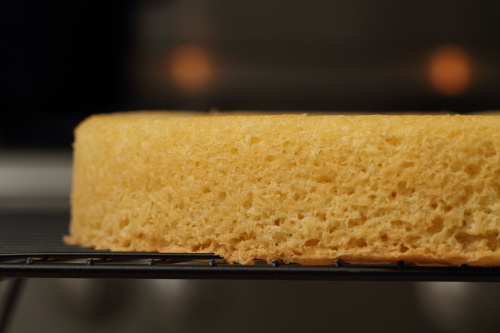 Now I can't give you a recipe for fondant, as I buy that ready made. And there's no photo tutorial of making the calla lilies either, because Laurens wasn't around while I was rolling them and he always takes my pictures. But the cake itself was heavenly and I can give you those recipes.
The sponge was great, light and fluffy and airy and eggy. Not overly sweet, which is good when you're filling it with buttercream and ganache.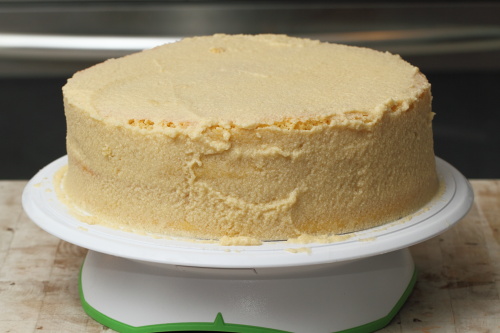 The buttercream wouldn't come into the exact right consistency, which had to do with the temperature, but the recipe still tasted really good, and once on the cake, you really couldn't tell the difference.
The ganache, oh the ganache… I could just eat ganache with a spoon and call it heaven. If ganache were a person, I'd become a polygamist and Laurens would just have to share me. (Yes, I sure as heck love that ganache.)
[print_this]

Ganache

12 oz good quality chocolate (choose whichever one has your preference, dark, milk, really dark, white – just make sure it's one that you love to eat as it. Don't skimp and use chocolate chips unless you prefer to eat chocolate chips over eating good quality chocolate bars.)
1 cup heavy cream

Chop the chocolate into little pieces, place them in a bowl. Heat the heavy cream until it reaches the boiling point, take it from the heat and quickly pour it into the bowl with chocolate. The chocolate will start to melt. Stir slowly but steadily, mix well and you will see the chocolate and the cream coming together into one thin mass. Once everything is fully incorporated either use it as a glace (by dipping something in there and letting it harden into a thin, glossy chocolate finish) or let it cool off and thicken. You can then either pipe it decoratively (it's ready when you can spoon in out, let it drip down and it retains it's shape) or whip it with an electric beater into a whipped frosting. All are equally tasty.

[/print_this]
[print_this]

Custard buttercream

2 egg yolks
50 grams of sugar
12 grams of plain flour
1 cup of milk
butter
sugar

First make the custard. Mis the eggyolks with the sugar and beat into a light frothy misture, sift in the flour and mix well, then add the milk and mix to avoid lumps. Place mixture in a pot and bring it to heat slowly, while constantly stirring. Once you have a thick yellow custard, remove from heat and keep stirring, it will keep thickening from the remaining heat in the pan. After a couple of minutes stop stirring constantly, but just stir occasionally (every couple of minutes) until it's cooled down significantly. Stirring it frequently prevents it from forming an icky crust.

Once the custard is completely cooled, you can weigh it and make the buttercream. If your custard ends up heavy or light (some eggs are bigger/heavier than others, how much has evaporated, how fast have you cooked it) adjust the amount of butter and sugar to make the buttercream. The ratio should be 5 – 1 – 3 (custard – sugar – butter).

Mix butter and sugar (I used part brown sugar part vanilla sugar part fine white sugar) until its  the slightly brown-colored equivalent of a light and fluffy mixture. Whip it well! Add the cold custard and whip it again until it's a wonderful, pretty, smooth buttercream which you want to eat right away. Use it to fill and crumb coat your cake.

[/print_this]
[print_this]

Basic sponge cake

4 whole warm eggs
100 grams sugar
100 grams flour
optional: replace some sugar with vanilla-sugar and/or add a drop of almond extract to the batter.

The trick of this sponge is a combination of warmth and patience. Get your eggs warm. Remove them from the fridge to get to room temperature, then lay them in a warm water bath. Water should be warm, not boiling, you should be able to put your hand in there, but it shouldn't be comfortable. Run some hot water through your mixer bowl as well. Then dry that off very very well. The bowl needs to be warm, not wet.

Crack your eggs and add the sugar (and the optional extract) to the bowl of your mixer. Then mix on high speed until you can't stand it anymore, then whip a little longer. I put Anne-Sophie (my trusty KitchenAid Artisan) on her highest speed for about 10 minutes. Don't worry, you can't overbeat it. If you walk away for a minute or two, you'll see that it's suddenly turning into a huge bowl of foam. That's what you want. Airy, foamy sugared egg.

Once you're sure it doesn't grow any more gently fold the (double) sifted flour into the mixture. Pour it into a greased pan and bake at 360F for about 25 minutes. A skewer inserted should come out dry. If the top gets brown too quickly just put a sheet of tin foil over it.

Cool on a cooling rack. Make sure it's completely cooled before you frost or fill it, or your filling will melt. You could replace part of the flour with sifted cocoa powder to make a chocolate sponge.

[/print_this]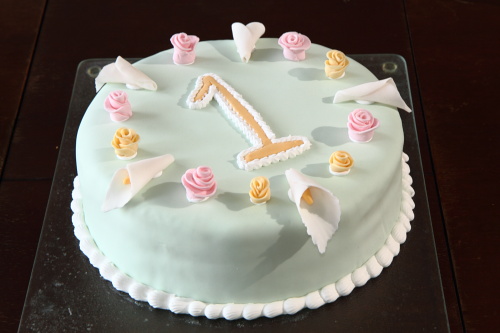 Would you like to get in touch, please don't hesitate to contact me via

my contact form.

Latest kitchen talk

Translate this blog

but don't expect it to make perfect sense!