I'm on a breakfast post roll, can you tell?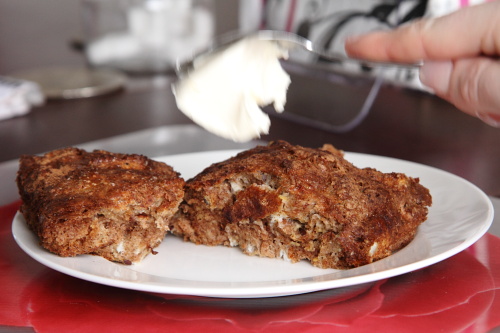 This breakfast casserole turned out so dense, heavy and rich that from now on I'll be serving it as dessert. I kid you not. This with some whipped cream, or vanilla ice cream – oh my, it's be great!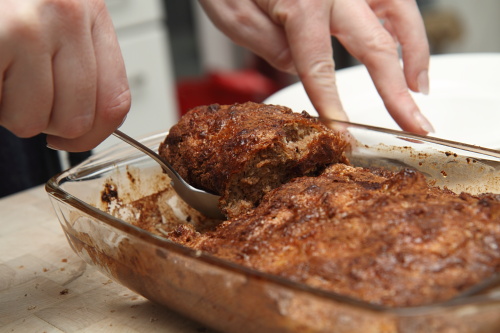 This casserole was an experiment. I wanted to make the French toast casserole I've made before. But didn't think of prepping it on time and didn't have (enough) of all the ingredients. So I improvised. It turned out to be like a dense bread pudding. Delicious, so incredibly tasty, but soo very much too rich for our breakfast tastes.
So if you're in to heavy breakfast, go right ahead and make this for breakfast or brunch. If you're like us and like your breakfast a little lighter, I still suggest you making it. Just serve it up as dessert. That's it!
[print_this]

Cinnamon biscuit casserole

A couple of slices of leftover bread (nice heavy crusty bread preffered, but any bread will work)
Eggs
Milk
Cinnamon
Sugar
Vanilla (I use some home made vanilla sugar to replace part of the regular sugar!)
some (home-made) biscuit mix (mine is partially whole wheat)

First off: No amounts were given. This is a perfect 'what's in the fridge' kind of dish, adjust the amounts to what you have. A little eggier or more or less chunks of bread are no problem at all. It would work without milk, it would work with less biscuit mix (be a little more like french toast) or less bread (be a little more like cake). It'll be tasty no matter what, cinnamon and sugar will make sure of that!

In a big bowl, beat the eggs with some milk (there should be more egg than milk)and a lot of cinnamon and sugar. Cut or pull the slices of bread into smallish pieces. Scoop some bisquit mix into the egg mixture and mix well, into a not-too-thick mix. It should be thinner than drop-biscuit dough, but slightly thicker than pancake batter. Drop the pieces of bread into the bowl and mix them in well.

Pour/scoop the biscuit/bread/egg mix into a greased casserole dish and sprinkle some more cinnamon and sugar over the top. A couple of little pats of butter are optional.

Place the casserole in a pre-heated oven (about 350F) and cook until brown and fully cooked (a skewer should come out dry, if you push it with your finger the eggy mixture should be a little bouncy and spring right back.

Serve with some mascarpone or (vanilla flavored) cream cheese for breakfast or with a sweet cream (whipped cream, ice cream, sweetened heavy cream) for dessert.

[/print_this]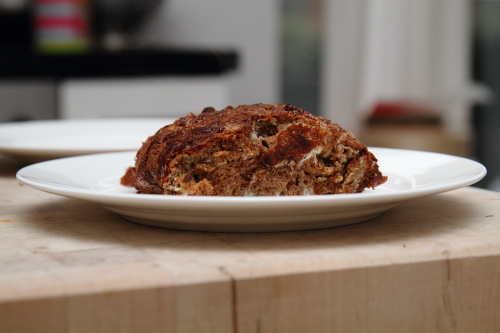 Would you like to get in touch, please don't hesitate to contact me via

my contact form.

Latest kitchen talk

Translate this blog

but don't expect it to make perfect sense!