Laurens and I aren't heavy breakfast people. We much prefer the Italian or French style breakfast – just a pastry or a small roll with some cold cuts – over heavy American or English style breakfasts. Sure, once in a while we indulge with a French toast casserole, Cinnamon rolls or pancakes, but in general that'll consist of very small portions. On those days we'll definitely won't eat lunch either.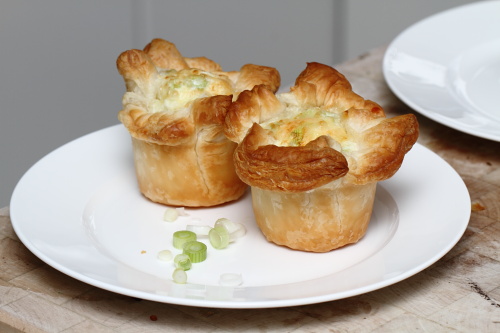 However much I love my morning croissant on the weekend, once in a while I prefer something different. Just not the same thing each day every day. As I usually roll and bake my own croissants (from ready made dough, still haven't gotten to that challenge), I'll embellish them with some cheese, chocolate, almonds or herbs. A little variation goes a long way.
But what if you want something light, something different and something easy? I found myself asking that question which got me thinking of kitchen staples and how to make them into a nice breakfast.
As I always tend to have some frozen puff pastry laying around and eggs are there too, I figured I could combine the two. Not in the traditional quiche-way, but something cuter, something a little different. I found a scallion in the fridge, begging to be used and had some leftover cheese I'd grated the night before. I figured making something nice, light and cute was feasable. Boy was I right!
The result, my eggs in a basket. Little 'baskets'of puff pastry filled with a baked egg and some scallion and cheese. A little bit of himalayan pink salt and pepper on top and there you have it. A light, easy breakfast, with an incredible cute factor.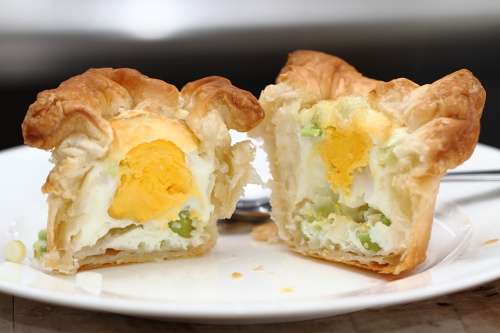 [print_this]Egg in a basket (recipe makes 2)

2 small squares of puff pastry (big enough to fill the cavity of a muffin tin and have the corners stick out)
2 eggs
1 scallion
some grated cheese
salt, pepper
a muffin tin
butter or baking spray to grease the muffin tin

Grease 2 cavities of your muffin tin. Place a sheet of puff pastry in each greased tin. Push it down so it's easy to fill, be careful not to poke holes, and makes sure a little of the puff pastry comes out on top to create the cute basket effect.

Slice your scallion into small rings. Put a little but of grated cheese and some scallion on the bottom of the pastry cup. Crack an egg in each cup and sprinkle some more cheese (jsut a tiny little bit) and a couple of rings of scallion on top of the raw egg. Grind a little fresh black pepper over the egg.

Place muffin tin with puff pastry and eggs in a pre-heated oven (350F) and bake until the visible part of the puff pastry is puffed and crispy and the egg is cooked to your preferred doneness. (I kept these in pretty long because the phone rang – I usually prefer mine a little softer.)

Remove the puff pastry baskets with the cooked egg from the muffin tin and place on a plate. Voila, cute eggs in a basket.

[/print_this]
Just imagine the cuteness if you'd serve it on a bed of shredded lettuce, with a cute little toy easter chicklet or something sitting next to it. Wouldn't that make your Easter breakfast or brunch table the cutest? I think so! Try it!! I know I will.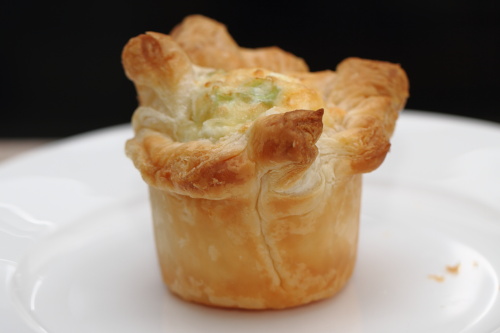 Would you like to get in touch, please don't hesitate to contact me via

my contact form.

Latest kitchen talk

Translate this blog

but don't expect it to make perfect sense!