I found a new foodblog. It's more than a foodblog, it's an everything blog. And I love it. In the last weekend I've grown almost-addicted to this website.
In the last month or 2 since I've started this food-blog-project myself, I've actually gotten addicted to more than one blog, more than 2 too… I have some serious FBA, Food Blog Addiction.
L teases me with this. He teases me a lot. But I can handle it, as I have a secret 'make-him-stop-teasing-weapon'. Or well, secret? It's not that much of a secret. It's mostly simple, easy, and works like a charm! I just threaten NOT to make the awesome recipes I've found. I'll threaten not to alter recipes. I threaten to make him cook.
And when I do that all is well in the word again. L will stop teasing and I keep reading, blogging, cooking and baking. Life works out that way!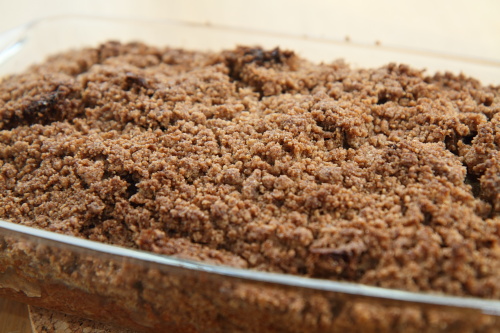 Last weekend, when browsing the community/recipe exchange part of that website I've found, I stumbled upon a recipe for baked French toast. Now I love French toast. Their eggy-cinnamony-goodness makes me very happy. I rarely make it, however. When I was a kid I made French toast all the time, but in the past 5 years, I doubt I've made it more than once.
When I saw the recipe, I immediately started craving my childhood favorite. I was completely okay with trying out a different version of it though. As long as it still contained eggs and cinnamon, I was fine with it. As long as it didn't contain berries or something like that, I was even better with it! I don't like fruit on my toast. I don't like fruit with my anything, to be honest.
Ree's (the Pioneer Woman, from that website) recipe didn't contain any nonsense I didn't want. It consisted purely of the standard, basic, awesome ingredients. The recipe combined them a little differently though. With a crunchy crumby almost struessel like crust. Yummmmm.
Now for once again, I didn't stick to any of her measurements. I'm a daredevil that way! Also, I didn't have all the ingredients in the amounts she wanted. Or her preferred kind of bread. But that was okay. French toast is forgiving; you can use whatever kind of bread you prefer (or at least I think so); you can make however much you want. The only requirement in my book is good quality cinnamon. I did have that!
So Saturday night, when we wanted to go to bed, I remembered I still needed to prepare the dish. So I quickly prepared, combined, mixed and blended. I popped everything in the fridge, to be baked the next morning. It took about 35 minutes to bake. And it was awesome! I doubt I'll ever make simple slices of French toast again! (And if you'd ever read this, Ree, you're awesome!!!)
Baked French toast (recipe could feed 4, but we did finish it off as well, just 'cause it's so good!)

Nice, heavy bread (I used about 1/4 to 1/3 of a heavy whole/multigrain dark bread)
3 eggs
some milk
cinnamon
butter
dark brown sugar
plain white flour
white sugar

Tear the bread into pieces. You cut cut them too, in nice squares, but what's the fun in that? Place the bread in a casserole dish.
In a bowl, beat the eggs with milk (splash by splash, so you can make sure it doesn't get too thin, the egg needs to still be able to set!), some white sugar and a little bit of cinnamon. Pour the egg mixture over the bread, and place the dish in the refrigerator.
Cut some cold, hard butter into thinnish slices, and place them in a clean bowl. The amount of butter will determine the amount of crispy crust, which is the essential part of this casserole, so you better use slightly more than you think you need. Add some plain white flour. A little less than you think you need, you can always add more, same goes with the dark brown sugar (about the same amount of sugar as flour). Add a good amount of cinnamon and a little bit of 'speculaaskruiden' (a Dutch spice mix containing cinnamon, nutmeg and some other spices. if you don't have it, just add a pinch of nutmeg).
With a pastry cutter, cut the ingredients to mix them. Make sure they mix well, if it looks too big and lumpy, add some more flour and brown sugar and keep going until it's like course sand.
Once the butter, sugar and flour is mixed well, put it in a ziplock baggie in the fridge.
The next morning, as soon as you wake up, start your oven, set it to 190 degrees celsius. As soon as it's heated, take your casserole from the fridge, pour your sugar/butter mixture over the casserole, pat it down a bit. Place it in the oven for about 35 minutes. (If you like it more bread puddingy 30 minutes will be enough, if you like it crispier, 40 minutes would be better).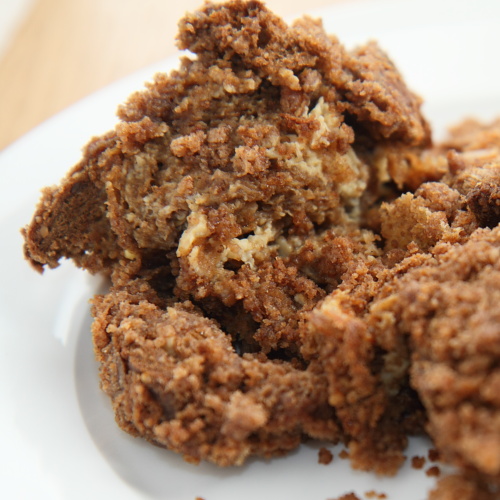 Scoop the baked french toast on a plate.
Eat it.
Go back for seconds.
Eat it.
Sit on the couch refusing to move for several hours.
Decide to have another bite.
Find out that it's still very tasty cold, it's like cake, bready cake, but cake.
Empty the casserole.
Postpone dinner 'til 10.
Would you like to get in touch, please don't hesitate to contact me via

my contact form.

Latest kitchen talk

Translate this blog

but don't expect it to make perfect sense!