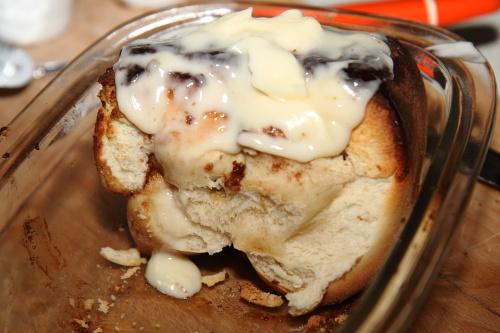 So yeah, I've talked about loving cinnamon rolls before, right? And I've given you the quick-and-dirty-and easy version. Well since I woke up early this morning on the count of having to use the bathroom and it being 928363839 degrees in our bedroom, I decided to make cinnamon rolls.
It's funny how the mind works.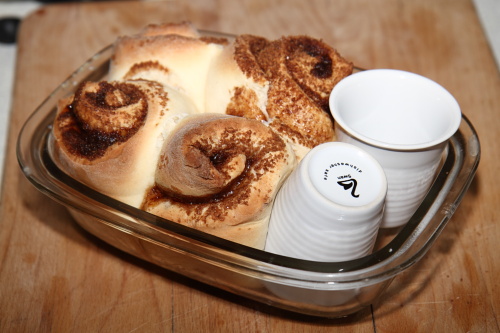 This weekend is filled with eating out. Tonight we have a 'trailer trash' themed bbq party, which means no cooking dinner. Tomorrow my mom-in-law is celebrating her birthday, which means we'll travel to Tilburg and have dinner there. With it being the World Cup final and Holland being in the race for World Champion, it will likely be quiet on the road. Which is good by me. Very good! I don't care for soccer much, or anything at all. I do however love being able to drive without any traffic on the road.
Anyways, this weekend won't be filled with cooking exciting dinners, as I'd usually like on weekends, so I guess cooking breakfasts that takes actual work, will do.
Often our breakfast is something quick and easy, I just buy a can of croissants, roll them and pop them in the oven. I might add some chocolate, cheese or almonds to them, but essentially, they'll just be the quick canned things.
Other standard, quick breakfasts include focaccia (half-baked, bought from the store), or just bacon and eggs, maybe toast, or just a slice of bread with a boiled egg, or cold meats and cheeses. So it's not THAT often that I actually cook or bake something. And if I do, it's usually something quick, like biscuits from my pre-made-mix.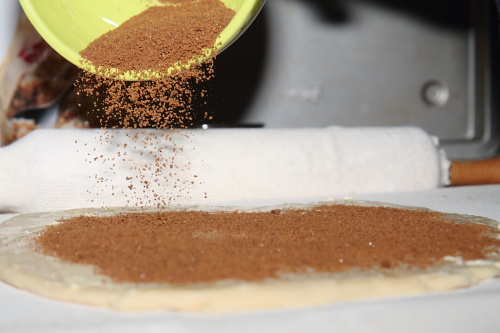 But today, with waking up because of the 2927363 degrees in our bedroom, I'm actually baking. Combining dough, milk, yeast, sugar, cinnamon and some other stuff to make wonderful cinnamon rolls that actually, truly, no lie, totally rival Cinnabon™. Seriously, if you have time on your hands regularly, or a really big freezer. Make these, and never buy them anymore. You'll save tons and tons of cash and you'll save yourself from eating stuff you can't pronounce, or don't want to pronounce. To those of you who have a secret love affair with cinnamon rolls (shhh, I won't tell anyone!), but don't want to stuff their body with (high fructose) corn syrup, or artificial coloring, or artificial flavoring (why, it's got cinnamon, it doesn't need artificial stuff!), here's your recipe.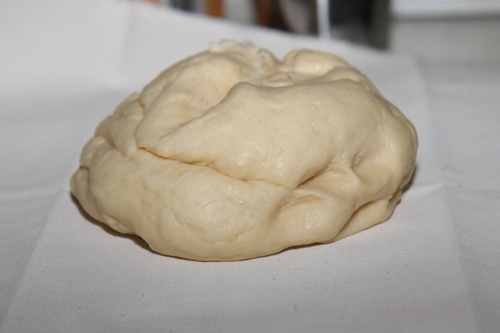 Now credit where credit is due, I altered this recipe from Allrecipes, I didn't come up with it all by myself. However I did improve them myself.

I've got to warn you. This is not a non-caloric dish. Not at all. It uses butter -real butter, don't use margarine- and sugar, lots and lots of sugar, and obviously flour. So if you're an Atkins-diet-fan wo doesn't believe in indulging, stay away from this recipe. Though, for the sake of this recipe and 99 percent of everything on this blog, I urge you to reconsider Atkins. Trying to lose weight can never, never ever be more important than eating carbolicious foods, especially these rolls! Just so ya know, they're THAT good!
The best cinnamon rolls in the world (recipe yields 4 large rolls)
For the dough
1/3 cup warm milk

1 small or medium sized egg (more egg won't hurt it)

a scant 2 tbsp melted butter

1/4 tsp salt


2 tbsp and 2 tsp white sugar

3/4 tsp instant or dry active yeast

1 1/2 cups all purpose flour
For the filling
1/3 cup brown sugar
2 1/2 tsp ground cinnamon
soft butter
For the icing
1/3 package cream cheese
1 cup powdered sugar (1 heaping tsp replaced by home made vanilla sugar)
1 tbsp and 1 tsp soft butter
1/2 tsp vanilla extract (only if you don't have the home-made vanilla sugar)
Start with the dough. Add the (warm, not hot)milk, yeast and sugar to the bowl of a stand mixer. Wait a couple of minutes to give it the chance to get active, add the salt and the egg and stir the mixture (using your dough hook). Add in the flour, knead it with your dough hook until it comes together, then knead another minute or 2 (still using the dough hook, it's okay to be lazy, the cinnamon rolls will immediately forgive you.)
Place a moist kitchen towel over the bowl and place the bowl in a warmish, non-drafty place and let it rise for at least an hour (Placing it in your oven with just the light on will work wonderfully.)
In the last minutes of your dough rising, prepare the cinnamon/sugar mixture.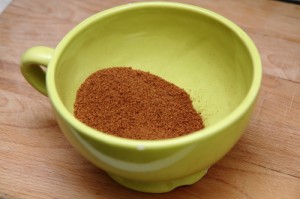 Turn out the dough, then roll the dough out into a rectangle. As soon as it's fairly thin and an acceptable shape, slather a generous layer of softened butter over the dough. Make sure everything is covered.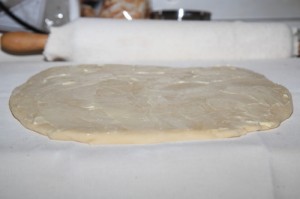 Now sprinkle the cinnamon/sugar mixture over the butter, all the way to the edges. Don't worry about losing some, you'll just sprinkle that over their tops once they're in the baking dish. Roll up the dough, starting on the narrower side. Then cut the roll in 4 even pieces and place them in a baking dish that fits your rolls as snug as possible.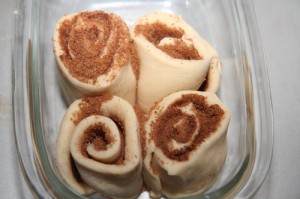 Start pre-heating the oven (200 celsius, 400 F) and let the rolls stand in a non-drafty place to rise for another 15 to 30 minutes, they'll be visibly bigger.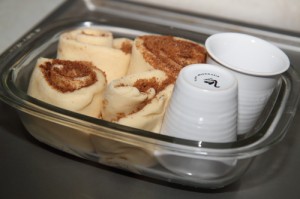 Now bake them in your pre-heated oven until they're done, nice and brown on top and fully cooked on the inside, about 20 to 30 minutes. As soon as they're brown, take them out of the oven and invert them in the pan, so the melted cinnamon/sugar mix that's moved down, will be evenly distributed. Pull apart the rolls, if you see they're not fully cooked in the middle (where the 4 attach), just place them back in the oven for 10 more minutes or so.
During the last minutes of baking, beat the cream cheese, powdered sugar, vanilla sugar and butter together to create the icing. Spread on top and enjoy these warm out of the oven. Yummmm
Notes about this recipe:
Brown sugar: in Holland they sell dark and light brown sugar. The color is determined by the amount of molasses still present in the sugar. I like to go halfsies on light and dark, but either will work fine. Just try to avoid plain white sugar.
Regarding the dough-rolling: I like to use pastry cloth for all my dough handling. You don't have to keep sprinkling flour, and it never sticks. I love using pastry cloth.
About the baking dish: My smallest baking dish is still a little on the large size for just 4 rolls, so I use this handy-dandy little trick, I place 2 little cups (or a ramekin, or whatever oven safe smaller thingie you have that fills the gap) inside the dish. The thing is, you want to keep them upright and close together to get maximum gooeyness going on in that pan.
About the cinnamon: Using good quality cinnamon really is the key to making great cinnamon rolls. I used Vietnamese Saigon Cinnamon which, if I don't store it in an airtight container, smells up the entire house. So fragrant, so cinnamonny. That's what you want. If you can't clearly smell your cinnamon, don't bother using it as no smell means no flavor and cinnamon rolls without cinnamon flavor is just sad!
Would you like to get in touch, please don't hesitate to contact me via

my contact form.

Latest kitchen talk

Translate this blog

but don't expect it to make perfect sense!