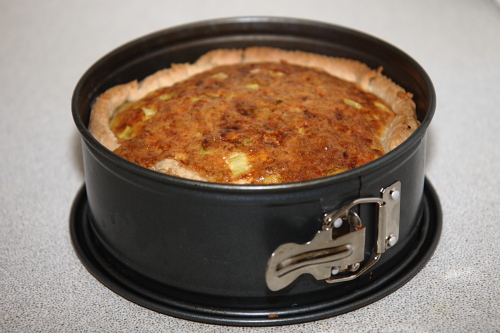 Ok, I know this sounds like heresy, but Julia Child's quiche dough recipe kinda sucks. I'll have to explain this, I'm sure, as everyone will go "whaaat??? you say something of Julia Child's isn't awesome, that's insane!!!" So first off, it's really easy to make. In her book she suggests using an easier dough if you can't figure out how to mix this, but really, if you've ever cooked anything at all, this should be possible. That's not the problem. The problem is the taste and the consistency. First the taste. It's bland! Very very bland. I'm wondering if she meant for you to use salted butter and forgot to write that down.
I am a low-sodium cook, I rarely add salt to anything, and if I do, I use it very sparingly. But this needed more salt for a savory dough, or the same amount of salt and way more sugar for a sweet dough. This was in-between nothingness. I'm sorry Julia, I really am. I'm still a big fan, but this dough wasn't anything special!
Then the consistency. The problem is the butter. Now I LOVE butter. I prefer using real butter over margarine any time, but this recipe is overdoing it. The dough uses both A LOT OF butter and 3 tablespoons of crisco. That's a lot of fat! I'm fully willing to disregard the health portion of that statement, as I don't mind eating unhealthy once in a while. But fat melts when it gets hot, and when a third of your dough (maybe even more) is fat, this means once you move it into the oven, the dough will actually melt and fall down.
Julia Child suggests blind baking the dough, at least half, to prevent a soggy bottom, which I tried, but the dough just completely melted. The solution Julia proposes, doesn't work very well, or at all actually, the dough just pulled apart.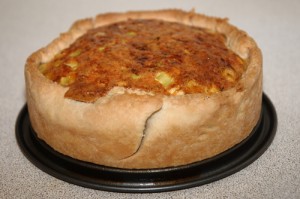 Since the dough actually hadn't cooked yet, just melted, I decided to form it back into a ball, knead it a little (things Julia won't let you do in her instructions) and put it in the freezer for a while. I started on the quiche filling and just left the dough to cool and harden. Once my quiche filling was done, the dough was hard and cold, so I rolled it again, lined the pan with the dough – again – but decided against blind-baking and just filled the quiche. The dough still fell down a bit, part of it actually cascaded in a bit , resulting in a not-so-even shaped quiche. It worked though, the dough didn't melt completely, it held the filling fine and the end result was an uncooked bottom, but besides that it was pretty good. In the end, it's all about the filling right? And that was my own recipe (sorry Julia)
So while the quiche was baking (7 eggs and cream and a LOT of cheese takes quite some time to fully cook) I made the leftover dough into cookies. Very very simple, but tasty cookies.
Cinnamon sugar leftover cookies


leftover dough (pie, quiche, whatever)
cinnamon
sugar

Roll out the leftover dough really thin, sprinkle it liberally with cinnamon and sugar. Fold in two and fold

that double again. Roll this out again, make it as thin as you can go without creating holes in the dough. Fold it again and roll again. You'll see the cinnamon all through the dough now, but you've also created little layers, like puff pasty basically. Roll it out as thin as you can go and cut strips, circles or whatever shape you like, place them on a cookie sheet, sprinkle a little extra sugar on them and bake them in a hot oven until brown. They're real simple, but tasty!
I actually popped the cookies in with the quiche when it was halfway done. We took the pictures and finished them all before the quiche even came out… oops!
Since the quiche filling was awesome, but the crust was so bland, I'll only write down the filling recipe. I will definitely not make this crust again, the pre-made frozen grocery store stuff tastes better! So that's what I'll do next time, or try a different crust recipe. I'll keep you posted!
Cheddar and bacon quiche (filling recipe for an 8 inch pie)

7 medium size eggs
125-150 grams grated cheddar (I used mild cheddar, sharp would've been better)
100 grams (1 small package) uncooked bacon bits
2 big spring onions
heavy cream
pepper
herbes de provence

Grate the cheddar into a big bowl, add the eggs, mix with a fork. Slowly fry the bacon bits and let them cook a little. Cut the spring onions into small rings and add them to the bowl, add some cream, pepper and herbes de provence. Once the bacon has cooled down a little, add the cooked bacon to the bowl with a little bit of the grease. Mix everything well, with a fork, pour into pie crust and bake in a hot oven until all the egg has set (it's not wobbly anymore when you move it) and it's brown on top. Serve hot.
Would you like to get in touch, please don't hesitate to contact me via

my contact form.

Translate this blog

but don't expect it to make perfect sense!