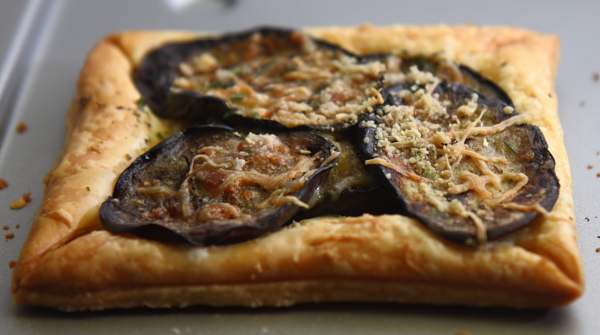 Since L and I are going to an event tonight, which will have warm and cold hors d'oeuvres we decided a full dinner would be silly. The hors d'oeuvres might be enough to sustain ourselves, but that's a risk we didnt really want to make. So I figured a healthy, filling and tasty hot snack would be just the thing to make. Eat snack, get ready for event and go and be merry… or something like that.
A while ago I saw a post on one of my favorite food blogs about an eggplant and brie dish. It looked like a sort of crossover between a tart, a pizza and a sandwich, which the author had bought at an airport in Canada somewhere. It looked really good! When decidign what kind of snack to make for us, the eggplant-brie-tartlet sprang to mind. Okay, no brie, and no idea what exactly was in it, but I figured I could come up with something tasty.
The end result: eggplant and cheeses on puff pastry. What a treat, and so simple to make too! It literally took no effort, which is good for a snack like that. Something you can prepare, pop in the oven and then get yourself ready. Ofcourse I didn't get ready, but looked at my creation through the oven door window.  Seeing them puff up was fun. Eating them even more fun!
Eggplant and cheese snack (recipe makes 3 large pastries)

3 small squares of frozen puff pastry (about 12×12 cm, defrosted)
1 eggplant
grated cheese (I used both parmesan and a simple Dutch cheese)
mixed italian seasoning
salt (for preparing the eggplant)
Prepare the eggplant by slicing it, putting it in a colander over a bowl and sprinkling a good amount of salt over the slices. Leave it to stand that way for at least 20 minutes, longer if possible. The salt will pull out the bitter eggplant juices that make it spongey. You can literally see the moisture dripping out. Each drop that leaves the eggplant, makes it tastier when served!
Wash the eggplant, to clean off the salt, then dry them off by squishing them between paper towel.
Cook the eggplant slices on a hot grill or griddle (I use a stovetop grill-pan, it leaves nice brown stripes on the vegetable.) Sprinkle some italian seasoning once you've turned them once, turn them once more after that.
Lay your squares of puff pastry on a cooky sheet. Lay one slice of eggplant in the middle, add a little cheese on top, add the next slice of eggplant, some more cheese and continue until you're out of eggplant (about 3 or 4 slices of eggplant per piece of pastry.) Top with some more cheese and a sprinkle of italian seasoning.
Pop the cookie sheet in a pre-heated oven (about 200 degrees celsius) and bake them until the pastry is puffed and brown, and the cheese has melted.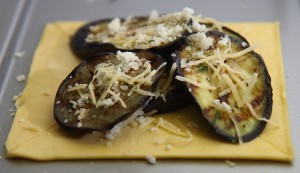 You can also make smaller pieces, with less eggplant and cheese, and serve them as hors d'oeuvres at a party. They're small elegant and a nice treat for vegetarians too!
Would you like to get in touch, please don't hesitate to contact me via

my contact form.

Latest kitchen talk

Translate this blog

but don't expect it to make perfect sense!