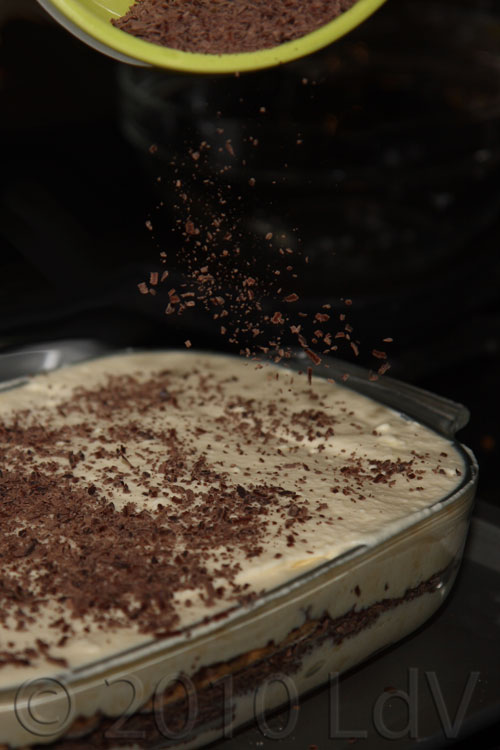 There are many, many variations of this classic Italian dessert. The base is always the same though; mascarpone, powdered sugar, eggs, coffee and lady fingers. I've heard of variations with different cookies, though in my opinion that's too big a difference to still call it tiramisu.
L and I were invited to an Easter-Monday-dinner. I volunteered to bring dessert and offered some options. Tiramisu was the quick winner and so I found myself making a mess of my kitchen once again. It is virtually impossible for me to cook without making a mess, but tiramisu might just be one of the messiest things I make. Especially when you realize that it needs no cooking and all ends up in 1 dish. No problem though, the taste totally makes up for it!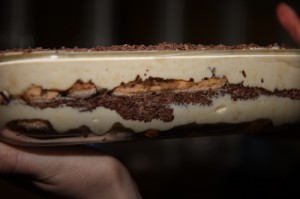 My version of tiramisu is an adaptation of the classic that's in the Silver Spoon. Though I don't alter much, I do think my few 'tweaks' make it mine, and very tasty!
Tiramisu (big dish, would easily serve 8, adapted from the Silver Spoon)

150 grams of powdered sugar
4 eggs, divided
400 grams mascarpone
150 ml strong coffee
25 ml amaretto
150 grams dark chocolate, grated
about 200 grams lady fingers

!! Note: In my dish I can make 2 layers. That's how I explain this recipe. If you have a different size dish, you might want to make 3 layers and thus divide the ingredients differently!!

Divide the eggs, beat the egg whites very, very stiff. Cream the egg yolks and powdered sugar, when smooth and a pale yellow, add the mascarpone and beat a little more, make sure there aren't any lumps left.
Carefully fold the beaten egg whites into the mascarpone mixture.
In a large bowl or casserole dish (rectangular/square is easiest) line half of the lady fingers sugar dide down and pour about half of the coffee and amaretto over. Spread a little less than half of the mascarpone mixture over the lady fingers. Sprinkle almost 2/3 of the grated chocolate over the mascarpone layer.
Line the other half of the lady fingers over the chocolate. Pour the remaining coffee and amaretto evenly over the lady fingers. Sprinkle a little more chocolate over the lady fingers and Finish with all the remaining mascarpone mixture. Even the mascarpone mixture out, push it down a little where you can, so it gets in between the lady fingers. Sprinkle the remaining chocolate over the tiramisu as a finishing touch.
Place the tiramisu in the fridge for at least 3 hours. Longer is better, as the tastes will infuse more. I try to make it the day before I need it.
Would you like to get in touch, please don't hesitate to contact me via

my contact form.

Translate this blog

but don't expect it to make perfect sense!