The fact that I had a bunch of different evening activities last week, led to an abundance of leftover meats and veggies in my kitchen. Not really leftovers though, more 'food gone unused'. Food that still needed to be used in some way or the other. Food that's changed purpose, over the course of a week. Instead of grilled steaks and veggies, something else was to be made, because part of the planned meals had already found different destinations.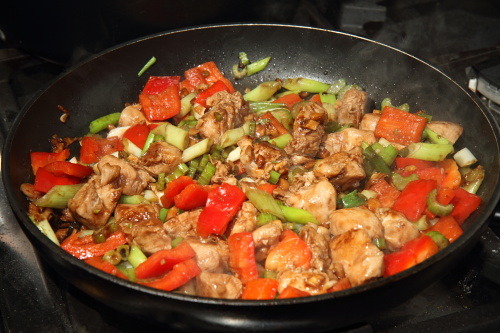 I'd taken the chicken out on the freezer to thaw, that morning. I knew what veggies were on the verge of expiration and needed to be used. I also knew I wanted something relatively quick and easy, but chockful of taste. This ginger chicken recipe works like a charm!
It's all easy enough, just marinate chicken for as long as you have time. Could be 5 minutes, could be an hour. Obviously – food gets more taste if you marinate longer, but since you add the marinade as a sauce as well, you don't need to take hours. You can — but you don't need it.
I'd started the marinade and cut my chicken into cubes a little while after I got home. By the time L got on the tram (he usually notifies me) it had been marinating for a while, and in the knowledge that it would only be 20 minutes until he got home, I started cooking.
Now this dish is strong in it's flavors. It's very spiy, even though it doesn't have that many ingredients. If you're not a big fan of chicken, or you (or kids, I'd imagine) don't eat too-spicy-food, I recommend you cutting the amounts of ginger and chili in half. If you like your food to have massive taste, I recommend you follow my recipe and enjoy it as-is!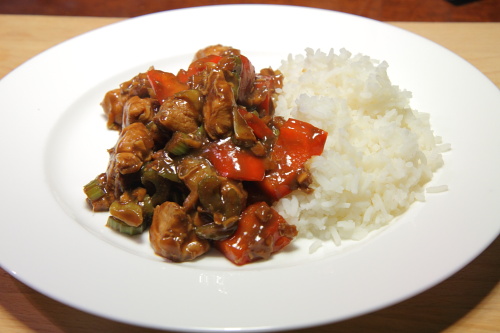 [print_this]Ginger chicken with spring onions and pepper
(recipe serves 2-3 adults)

about 300 – 400 grams of skinless boneless chicken (use chicken tenders or strips of chicken breast) – cubed
1/2 to 3/4 cups of soy sauce
1/2 to 3/4 cups of dry sherry (seriously, don't ever drink or use sweet wines for anything but dessert – it's just plain wrong! And I recommend not using 'cooking wines' – a wine you wouldn't be willing to drink, shouldn't be put in food either, at least not if it's meant as wine-flavored-flavoring of the food.)
about 1 tbsp light brown sugar
2 good chunks of fresh ginger (I used a total of about 3 inches long by 0.5 to 1 inch wide), peeled and chopped into brunoise.
1 big clove of garlic, chopped into very fine pieces
Ground chili peppers (to taste, but use quite a bit!)
corn starch
sesame oil to cook in
a large red (bell) pepper, cut into medium size pieces
5 or 6 spring onions, cut into medium sized diagonal pieces

In a large bowl, combine soy sauce, sherry, brown sugar, garlic, ginger and chili. Place the chicken in there and let it stand there for a while. In a skillet heat up the sesame oil. While the pan is heating up, put some cornstarch (I used about 1 Tbsp) in the marinade bowl and mix it in with the chicken and marinade.

Place the chicken in the hot skillet and let it brown a bit. Turn the chicken over, then add the spring onion and bell pepper. When all the chicken is cooked, add the marinade into the skillet and cook on high (prevent raw chicken juices to remain, so get it to a boil!). The marinade will immediately start to thicken and reduce until it just covers the meat and veggies.

Serve with white rice.

[/print_this]
Would you like to get in touch, please don't hesitate to contact me via

my contact form.

Latest kitchen talk

Translate this blog

but don't expect it to make perfect sense!