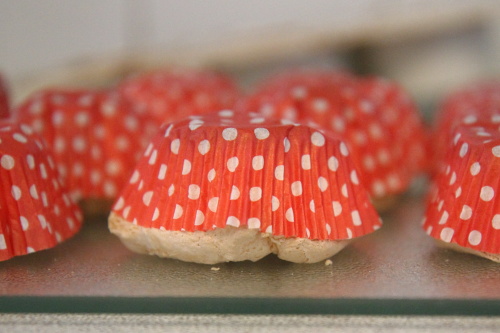 So believe it or not, I'd never ever had Angel Food Cake before this week. I kid you not!
Angel Food Cake isn't something that really exists in Holland, or at least I've never encountered it. And for some reason I'd never had it in the US either. I'm guessing my friends and family just like other types of cakes better.
I had a ton of egg whites left after making ice cream and tiramisu. To be quite honest, there's another jar full of egg whites in my freezer now. 18 cupcakes for 2 people is enough, thank you very much! I will not make more until we've finished those. They're in the freezer now and I'll just defrost them as we go, all 14 that are left right now.
Now I'd been looking around for recipes that would use up my egg whites. A souffle would use egg whites, but I still haven't found the perfect souffle dish. While browsing around the most egg-white-rich recipe I found was Angel Food Cake. It even called for far more egg-whites than I had left.
Now every recipe said to use a special Angel Food Cake pan. Since I don't have one, I figured cupcakes would have to do.
I was amazed at the recipe. Even though it called for a lot of whipped egg whites, surely a cake batter would need butter, and yolks and lots and lots of flour???
I couldn't really believe it. It was all sugar and eggwhites, just your average meringue, with a tiny, tiny amount of flour.
Surely this wouldn't become cake, right? It can't be! It's impossible, or is it???
I figured now that everything's been whipped, it doesn't hurt to try. I lined a total of 18 muffin tins (are they still tins if they're plastic, or silicone?) with cute red and white polka-dotted cupcake liners. I scopped in my cake batter, which wasn't as easy as it sounds. The stuff will not release off your spoon without some serious effort. But I prevailed and 10 minutes later the cupcakes were baking.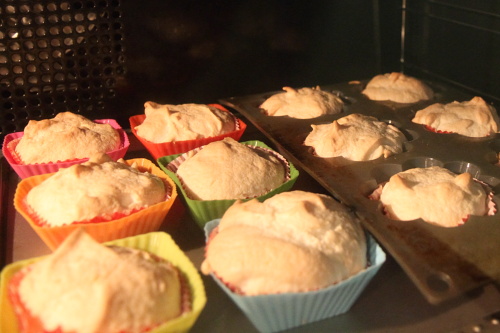 Now timing is everything, so I think I'll leave them in a few minutes less the next time I make them. Or I'll invest in the special pan and not worry about figuring our how long individual cupcakes take compared to 1 big cake.
Also I'll be more careful removing them, to prevent collapse. It's all a learning curve. The good thing though, is that now they have a nice flat top, which will work great for frosting, if I decide to do that one day.
Not now though, right now I'll just post my pictures and recipe here, and take a look at the breakfast casserole that's in the oven.
[print_this]Angel Food Cupcakes (recipe adapted from Allrecipes.com, makes 18 small cupcakes)

3/4 cup egg whites (approximately 6)
1/2 cup and 2 tbsp powdered sugar
1/2 cup all purpose flour
3/4 tsp cream of tartar
1/2 tsp vanilla extract
1/2 tsp almond extract
1/8 tsp salt
1/2 cup (fine) castor sugar

Separate the eggs and get the egg whites to room temperature (don't discard your yolks though, you can use them for ice cream, or tiramisu). Add the cream of tartar, extracts and salt to the egg whites. Whip them and once they come close to soft peak stage, slowly add in the castor sugar. Keep whipping the egg whites until they form very stiff peaks.
Sift the flour and powdered sugar together a couple of times, to make sure it's fully mixed and every possible lump is gone. Using about a third of the flour mixture at a time, carefully fold the flour into the egg whites. Make sure to do this VERY gently so they don't deflate too much.
Line muffin tins with cupcake liners (use cute ones!) and fill the liners with the cake batter. Make sure not to grease them as the cake won't rise (as much). Place the cupcakes in a pre-heated oven (350 degrees F/175 degrees C) for about 15 to 20 minutes. Check for doneness. If they are nice and light brown on top and bounce back if you gently push them, they're done.
Handle them carefully so they won't collapse too much and let them cool completely (or be like me and eat one warm!!)
[/print_this]
For those of you who are like me, and have never had them before. Think meringue cake. They're really really fluffy and have a texture between meringue and airy fluffy light cake. The crispy top layer tastes exactly like meringue. Try them, you can't go wrong, they're seriously good!
Would you like to get in touch, please don't hesitate to contact me via

my contact form.

Translate this blog

but don't expect it to make perfect sense!