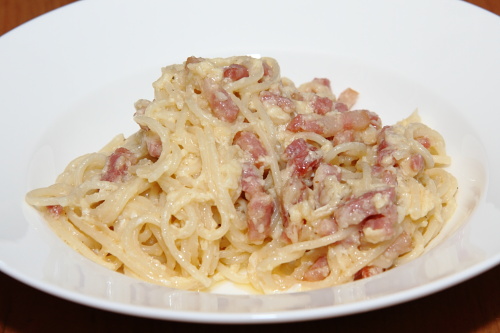 Yes, yes, I know, I've been a bad, bad food blogger for the last while. Not because I don't want to post, but because besides the ice cream cake I posted before this, I really haven't done much serious cooking. It stinks, I know, but what can you do. I've been working on a crafty/sewing project and have spent lots of time researching things I'd like for our new home, kitchen, pantry and such. Through this I've discovered many great blogs with ideas, all the ideas, but it's kept me away from the kitchen.
It seems like all I'm doing is quickly whipping stuff together and serving it without taking the time to have it photographed, or take a picture myself. Partially because the dishes just haven't been the most interesting to look at (in a picture) and partially because we'd just be really ready to eat when it was done.
Also, I had planned a couple of decent dinners last week, but for some very strange reason the produce I got last week was just all really bad quality. I wonder if it's because it's vacation time and the stores sell less so they have more 'older' produce laying there, but this week I've started cleaning 3 different vegetables that I ended up tossing because there hardly was anything left if I'd removed the nasty bits. Too bad, as I was really looking forward to eating fennel again. I guess I should go to the farmers'market a little more often, instead of just using grocery store produce.
But I digress. As I said, I have cooked. I've come up with a couple of quick and easy dishes that actually tasted great and were a result of looking what was there and still good to use. This lead to a chicken, cauliflower, mozzarella-bechamel casserole and another casserole containing thin sliced zucchini and new potatoes, with pieces of camambert and pork chop mixed in between. It didn't look spectacular (as you can see) but it did end up tasting decent enough.
Then finally, yesterday, I'd had it with casseroles and went for pasta. Not feeling like making my own pasta (L had gotten home from work real late that day so I wanted something really quickly) I opted for spaghetti alla carbonara. I never use fresh pasta for that, as it's got such a strong flavor.
This time around, I was smart and had L take pictures – not at all like last time where I just went and ate it all and forgot about wanting to blog with pictures.
Carbonara is amazingly simple, as soon as you know the trick. The strange thing about this dish is that a lot of people think it contains cream. It doesn't. A true carbonara won't have even the tiniest drop of cream in there. The creamy texture comes from butter, melted cheese and quick stirred egg. The quick stirring is the key, having it coat everything, mix in with the butter and the cheese, instead of cooking in the pan and leaving you with 'pasta alla breakfast' (as in cheesy scrabled eggs and bacon). Not that there's anything wrong with breakfast for dinner, but I really doubt you'll want that with pasta.
If you've never made carbonara before, I urge you to try it. It might sound (and taste) like a complex dish, but it really is the most basic cooking. Enjoy!
[print_this]Spaghetti alla Carbonara (recipe for 2)

Enough dry spaghetti for 2 (I use a 'dosaspaghetti to measure)
a notch of butter
about 50 grams of bacon
20  - 25 grams of Pecorino cheese
20 – 25 grams of Parmigiano cheese
Fresh ground pepper
1 egg
1 clove of garlic

Start off by boiling your pasta. In a skillet melt your butter and add your bacon (pancetta is preferred, but I didn't have that), cook the bacon so the fat loosens up. Use very low heat so you won't burn your butter. Add 1 whole peeled clove of garlic to the pan (you may smash it a little to release more flavor)
While the bacon and the pasta are cooking, grate your cheeses.
Once the pasta is cooked al dente, drain it, remove the clove of garlic from your skillet and then place the pasta in the skillet. Turn the heat all the way down, to the very very minimum you can get. Add half the cheese to the pan, crack the egg in there, stir feverishly to coat everything with cheese and egg, then add the rest of the cheese, stir once or twice more and serve immediately!

[/print_this]
Would you like to get in touch, please don't hesitate to contact me via

my contact form.

Latest kitchen talk

Translate this blog

but don't expect it to make perfect sense!