Sorry about the total lack of food-related-updates. Can't help it though, I seriously have barely cooked in the last 2 – 3 weeks. This buying and working on and getting ready to move in to a house thing takes up a lot of time and energy. Energy I should be using towards this blog. So I'm sorry, mea culpa, but here's an awesome recipe for you now!
I told you about our family recipe books we made during our reunion, right? Right!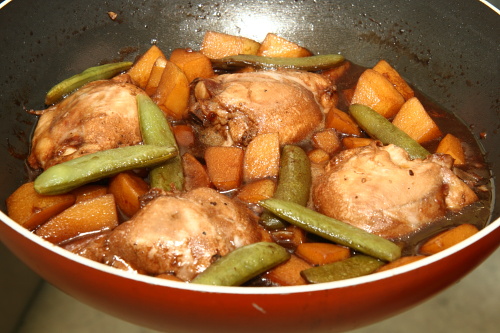 My wonderful cousin-in-law C gave me her recipe for Chicken Adobo. I'd told her I wanted that. She'd made it for me once when I visited her and her husband (my cousin) in San Fransisco. It was awesome.
So instead of asking her for the recipe, I forgot all about it. Until the recipe exchange that was.
She hadn't brought the recipe with her so she wrote it down from memory. (Which she didn't tell me until after I made it.) Her memory served me very well though, because her recipe rocked!
Since we've been busy and I'd been feeling sick and whatever other reasons I can think of, I tweaked it a  little bit to save me some work. Instead of preparing a separate veggie, I just added some sugar snaps to the pan in the last 5 minutes. Also, instead of boiling rice, I added an extra potato and called it a day. Hey, if you already have potatoes you have a full meal without rice too, right??
But both of those alterations do not really change the dish. Yes, served over rice would've been nice to have it take up more of the sauce, but we dealt with it. It worked out fine for us. We're imperfect people. Or at least I am…
The recipe is super-simple. Make sure though, to you do your prep in time. That said, prep takes about 2 minutes, so it really only means thinking about what you make for dinner before you actually do, but not any more than that.
As said, it was awesome, so I'll just give you C's original recipe and let you tweek on your own.
[print_this]Chicken Adobo

4 or 5 chicken breasts, cut into pieces
1/2 cup vinegar
1/2 cup soy sauce
2 bay leaves1 tsp of ground peppercorns
3 cloves of crushed garlic
3 whole cloves of garlic
6 yellow baby Dutch potatoes (or if you're anywhere except for the us, 6 small potatoes), quartered or halved
1 tbsp olive oil or other cooking oil of choice

(Tweak note: All my personal notes about the recipe are in Italic. I used chicken thighs, bone in. It was all I had in the chicken department and worked wonderfully – and as said, I added some more potatoes, for carb/fiber purposes and some sugar snaps at the end, for veggie purposes.)

Put chicken in a container for marinating. Pour vinegar, soy sauce, garlic, peppercorns and bay leaves into container with chicken. Cover container and marinate overnight, or for at least 2 hours before cooking

Separate chicken from marinade. Set marinade aside. Heat oil in a wok or non stick sauce pan and sauté garlic for a few seconds (I did the whole cloves in the marinade and the crushed cloves got sauteed)

Sauté chicken in the garlic until outside is no longer pink. Add the marinade and cook for 2 minutes, then add potatoes. Cook for 10-12 minutes covered (make sure potatoes are done). Serve over white rice.

[/print_this]
Would you like to get in touch, please don't hesitate to contact me via

my contact form.

Latest kitchen talk

Translate this blog

but don't expect it to make perfect sense!