Tonight we're eating 'boerenkool met worst' or the traditional Dutch curly kale 'stamppot' (mash).
It's traditionally eaten with smoked sausage and jus, with a possibility of added bacon bits.
See how I'm saying with jus and not with 'au jus'. Yep. That might be my biggest pet peeve in English food-language. Seriously. Jus comes from juice and relates to the juices that come from the meat. Jus is the French word for juis, which explains people saying 'au jus'. And saying 'au jus is fine, if you want to give your meal a French name. Filet de boeuf au jus would be fine in my book. Chicken au jus would make me wonder why you're combining the 2 languages, but whatever-food-you-might-choose 'with au jus' just drives me nuts. DO NOT SAY THAT! (Sorry, didn't mean to yell.)
Really, seriously, total pet peeve. I get sincerely annoyed and refuse to answer when people ask me 'do you make that with au jus'. No, I don't make it with with-juice… I don't know what with-juice is, geez, it's made with jus, juice, from the meat, possibly in powdered form, sure, but juice, from meat, not with-juice, whatever that may be…
So that's my pet peeve. Tell me yours!
And for a quick 'recipe' for jus.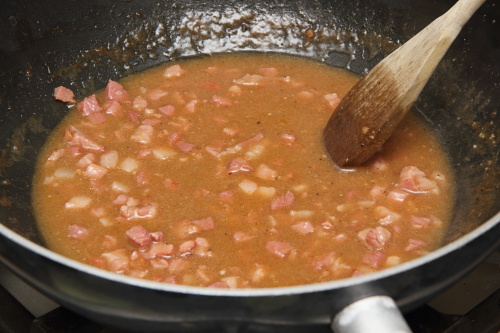 Generally for something like curly kale mash, where there's no meat roasting to generate jus, I just use the powdered stuff. But I enhance it. Since I like to add bacon bits to the boerenkool I start out by putting the cubed bacon in a pan to cook and melt a little. Then I add some lard and butter (or just butter if that's all I have) to add a little extra grease. If I actually have time and am not in the process of packing everything and having the sniffles at the same time (yes, I have the evil cold from hell) I'll fry some onion and garlic up. However, right now I just don't have the time or room for that.
In a little bowl I put some of the powdered jus and add a massive amount of garlic powder, some onion powder and some fresh ground pepper in there and mix it. NO salt please, it's way too salty on it's own already with the bacon and all.
Then I add some mustard seeds and a really good squeeze of mustard and dump it in with the bacon and the grease. I stir well to coat all the bacon and make a thick muck of it in the pan. Yes, it will look icky right then and there. And then you add the amount of water you need to make it the right consistency. It will tell you on the box how much you need, or you can eyeball it for color and thickness.
Stir so everything is well combined. Heat it through again, possibly add some more water if it needs it. And there you have it. Wonderful just to add to your boerenkool. It's very tasty.
Now if I'd serve this with steak, I would totally add a good splash of red wine. You can vary with it. Just do me one favor. Don't call it 'au jus'!
Would you like to get in touch, please don't hesitate to contact me via

my contact form.

Latest kitchen talk

Translate this blog

but don't expect it to make perfect sense!