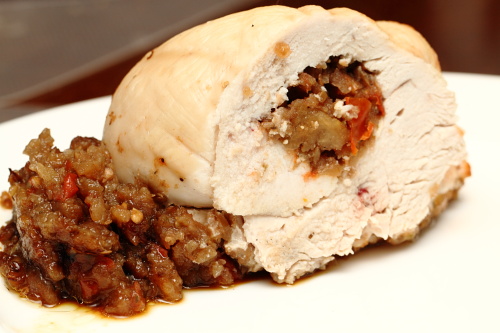 As a kid I thoroughly despised eggplant. I have no idea why. It was too spongey, too chewy for my liking. Or at least it was the way my mom made eggplant. What I recall from that time is her making eggplant boats. Stuffed with ground beef and the inside of the eggplant and some seasoning, then cooked in the oven. I have no idea what exactly happened to the eggplant, and I know my brother, my mom and everyone liked it, but I just couldn't get used to the texture.
I don't recall the first time I actually tried eggplant and enjoyed it. I'm fairly certain it was a mistake-order in a restaurant. Probably 'Melanzane alla Parmigiana' in an Italian restaurant. I possibly asked what melanzane was and I assume they told me wrong or just said 'vegetable with tomato sauce and lots of cheese'. I can hardly imagine any other way someone could've convinced me to try it. I do know that I was probably 20 years old or so.
The way it was prepared that first time, changed my view of eggplant competely. I loved it. The soft texture, tender, but not spongey at all. The wonderful flavor that merged with the tomato and cheese. Ever since that one dinner where I was tricked into trying it, I've loved it.
Nowadays, I eat a lot of eggplant. Heck, I actually have an eggplant-plant in my little urban garden. I often just grill it, quickly, and eat it as a side. Parmigiana – that dish that made me fall in love with eggplant, is a regular occurence as well, but sometimes I get creative.
I had an eggplant in dire need of eating, and a nice big chunk of turkey breast. I like both, so I figured I could combine the two. Even better, fill the turkey with the eggplant. I made a nice roll-up. Roulade, or involtino if you will, to be cooked in the oven. I imagined the flavors enhancing each other a great deal. I got excited.
I knew to fill it the way I wanted, I needed to make a puree. To do that I first cooked the eggplant over an open flame. I have no idea how you'd do this if you have an electric stove, but I cook on gas, so I just turn on a small burner and lay the eggplant on top. I've shown that before, when making an eggplant dip. You just turn the eggplant over and over again until it's all soft and mushy. Remove the skin and place the eggplant in a container in which you can mash it up nicely.
I also decided to add some tomato, so I popped a tomato in boiling water for a minute or two (until the skin started to peel a little) and added it to the mixing bowl. Along came garlic, a little olive oil and some dried italian seasoning. Very simple, not that many ingredients, but all ingredients that love and enhance each other. I used my immersian blender to make a puree.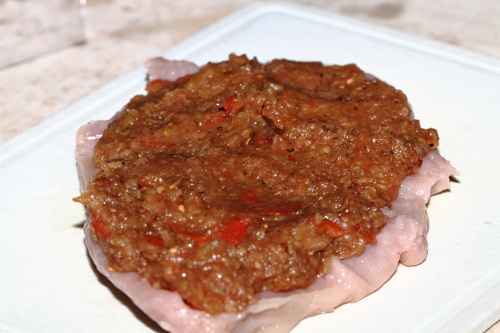 I sliced the turkey breast open and laid it down flat. I spread the puree on top and rolled it up. Some kitchen twine around it and it was ready to go in the oven. The leftover puree was placed around the turkey in the dish to be baked as well.
[print_this]
Ingredients
1 eggplant
1 large tomato
italian seasoning to taste
1 clove garlic
salt and pepper to taste
1 small turkey breast (12-14 oz)
kitchen twine
Instructions
Roast the eggplant on an open flame until tender. Remove skin and place in mixing bowl
Cook the whole tomato in boiling water for 1-2 minutes, add whole tomato to mixing bowl as well. Add 1 clove grated or pressed garlic, italian seasoning and salt and pepper to taste. Mix well with a fork or an immersion blender.
Butterfly the turkey breast so you have a large piece of meat which you can roll up. Spread the eggplant mixture over the meat and roll it up. Tie some kitchen twine around it to keep it from separating. Place turkey roll up and leftover eggplant puree (if there is any) in an oven dish. Cook at 375F for 35-40 minutes (or until turkey is fully cooked). Remove kitchen twine, slice and serve.
Notes
If you use a large turkey breast (over 1. 5lbs) you might want to double the rest of the ingredients.
[/print_this]
Would you like to get in touch, please don't hesitate to contact me via

my contact form.

Latest kitchen talk

Translate this blog

but don't expect it to make perfect sense!