Currently viewing the tag: "BBQ"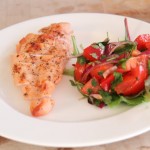 Dutch people have told me that the way I grill is all wrong. There's no charcoal in my grill, my food is properly cooked  and has a nice color. So I must be doing something wrong, right?
The way the Dutch grill, or barbecue, is by lighting charcoal under a rack and roasting several [...]
Continue Reading

→
Would you like to get in touch, please don't hesitate to contact me via

my contact form.

Translate this blog

but don't expect it to make perfect sense!