Currently viewing the tag: "Eggplant"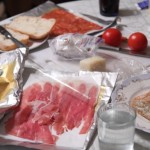 So in Milan we did a lot… of eating!
We arrived in Milan early Friday afternoon. After taking a taxi to the apartment and drinking coffee, we walked to the grocery store across the square. I was amazed, this was a small, little grocery store, compared to American, or even Dutch stores. [...]
Continue Reading

→
I haven't been overly inspired in the kitchen the last couple of weeks. Can't help it. I guess I'm just craving the nice spring and summer veggies, which are on hold since it's still friggin cold here. I guess it's a good thing it's cold though. Garbage men are on strike and the city [...]
Continue Reading

→
Since L and I are going to an event tonight, which will have warm and cold hors d'oeuvres we decided a full dinner would be silly. The hors d'oeuvres might be enough to sustain ourselves, but that's a risk we didnt really want to make. So I figured a healthy, filling and tasty hot [...]
Continue Reading

→
Would you like to get in touch, please don't hesitate to contact me via

my contact form.

Latest kitchen talk

Translate this blog

but don't expect it to make perfect sense!