With a whole bunch of basil left I decided to read through the index of the Silver Spoon. They have an index by recipe title, as well as an index by ingredient. The same dish might come up 6 times that way, but it's really helpful when you have an ingredient and need ideas. By looking through the basil section I found a dozen recipes that called for 6 or 8 leaves, but with the whole bunch in the fridge,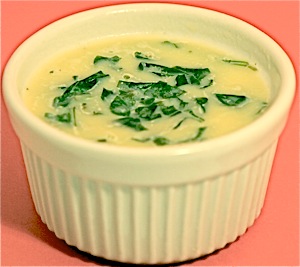 that didn't help much. Then finally I found basil butter. So simple, yet so wonderful. Why would you NOT want to have a tub of that in the fridge? Right?
It took mere minutes to make (and smell up my whole kitchen wonderfully) and will last me quite some time. The Silver Spoon advises to use it on fish or other seafood. since I don't eat seafood I guess it'll just have to be wonderful on steaks, grilled chicken or maybe just a base for a cheese sandwich. Or with some plain pasta. Oh, the options!
Basil butter (recipe adapted from the Silver Spoon)

a big bunch of basil
about 150 grams of unsalted real butter
Some lemon juice
salt and pepper
In a 'bain-marie' or other heatproof dish, melt your butter over simmering water. If you start with cold water and don't turn the gas on too high, you can use the time that it's melting to prepare the basil. Remove the stems from the basil and rip the leaves in pieces. The smaller the better, I'd guess, mine were still relatively big though.
Once the butter has melted, move the bowl from the pan to the counter and mix in the ripped-up basil, some lemon juice (sifted if you've squeezed it fresh) some salt and pepper. The basil will start to wilt a little from the heat. Keep stirring, mixing it, making sure everything's wilting and covered in melted butter. Transfer to a smaller fridge/freezer safe dish and use it for whatever you'd like to use basil and butter on!
Now the original recipe called for 100 grams of butter and I already upped that, but I still had the feeling that would leave me with butter-covered-basil instead of basil butter, so I melted some more butter (another 25 grams or so) in the microwave and poured that in the bowl. This turned it into just the butter-to-basil ratio I liked. I poured/ladeled it into two deep little dishes and let it cool a bit. Covered with plastic one moved to the fridge, one to the freezer. Can't wait to try it on something!!!
Would you like to get in touch, please don't hesitate to contact me via

my contact form.

Latest kitchen talk

Translate this blog

but don't expect it to make perfect sense!