Today was the first real nice day to be outside this year. The temperature finally went into the double digits this week (not every day) but besides wednesday, when I was stuck in the office all day, the sun really hadn't come out. Today – however – was sunny. Very sunny. Waking up with the sun peeping through the curtains was wonderful, so we decided to go outside. We went to the woods. (Het Amsterdamse Bos – Amsterdam forest – was planted in the 1920′s and gave 1000 people 5 years of work.) L has recently bought a new lens for his camera and this was a wonderful day to test it out.
Walking around in fresh air made us hungry and made me long for simple nice-weather-food. When L took a picture of a very stubborn chicken, it was decided. Chicken in puff pasty for dinner!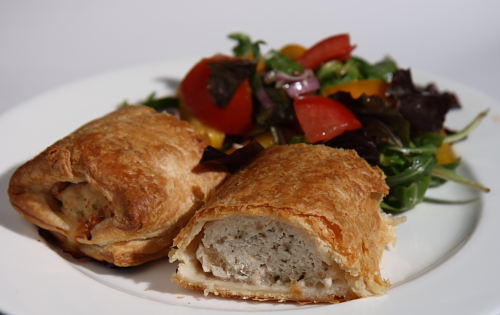 I love puff pastry. It is one of the most magnificent products around. I usually have a package of the stuff in the freezer or fridge. Roll anything in puff pastry and it looks festive! Perfect for spring, therefor. Some day soon I will give in to my urge to actually make puff pastry myself, but today I just used the roll from the fridge.
Now there are about a million ways to make anything in puff pastry. Whole chicken breasts with veggies, pieces of chicken, or making little ragout-cups and stuffing it with chicken in sauce, or just a simple ragout. After having tried a dozen or so different recipes, lately -or since I've had Anne-Sophie – I keep coming back to ground chicken with soft cheese and french herbs. Sometimes I make little individual packages, that are sealed completely, but today I decided to go with a roll. I added a nice, big salad with tomatoes, yellow pepper, onion and greens and a wonderful meal was done!
Chicken in puff pasty (ground-chicken recipe)

1 big or 2 smaller chicken breasts
boursin cheese
herbes de provence
salt, pepper
breadcrumbs (optional)
big rectangular sheet of puff pasty
Cut the chicken breast(s) into long strips. Using a meat grinder (or food processor, if you don't have a meat grinder) grind them coarsely. Add in the boursin (I use about half a package, but it really is to taste), herbes de provence, salt, pepper and breadcrumbs. I like to add everything into the grinder at about the same time, so it mixes already, but it can be mixed in later too, just make sure it all blends well.
Roll out the puff pastry. Place your ground-chicken-mix along the long side of the pastry in a long strip, leave a little pastry to fold over. Start rolling by folding the upper little bit of pastry over the chicken-mix and roll it down until you've reached the end of the pastry. You'll have about two layers of pastry all around the chicken. You don't need to pinch the sides closed, but you can if you want to.
Place chicken roll in the oven on 175-200 degrees celsius for about a half hour, or until chicken in cooked and pastry has puffed and is nice and brownish. Cut into the amount of pieces you want/need and enjoy!
The chicken we ate actually came from the grocery store. No matter how stubborn it was, the chicken we met today, is still roaming around the woods and will hopefully not become dinner for quite some time…
Would you like to get in touch, please don't hesitate to contact me via

my contact form.

Translate this blog

but don't expect it to make perfect sense!