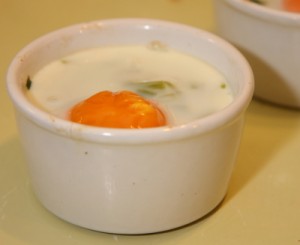 After all the work on arranging this site and it's layout, I wanted something easy to make for dinner. Easy, yet tasty and with ingredients I actually had (yes, the store was closed by the time I was happy with the layout).
Fortunately I still had a leek and eggs!
When I left my previous job, a couple of guys I worked with a lot actually got me a cookbook. The wonderful classic 'the Silver Spoon' to be exact. Anyone who's ever wanted to cook Italian food needs to get him or herself a copy of this magnificent thing.
Italians know the secret of making the tastiest meals out of just a couple ingredients. Uovo in cocotte is one of those things. There are a number of uovo in cocotte (egg in ramekin) dishes in the book, which I haven't all tried yet. There's a lot in the book I haven't tried, It's a 1200 page cookbook with the shortest possible recipes, never more than a third of a page. So no, I won't be done with the book for quite some time.
So leek with egg is was. Some emergency frozen pommes duchesse (mashed potato rosettes), a steak on the grill and voila (or pronto) a wonderful, simple but tasty meal!
Uovo in cocotte ai porri (for 2)

1 large leek
fresh garlic to your liking
2 eggs
butter
olive oil
salt, pepper, nutmeg
2 ramekins (or other oven-proof, single serving deep dish)

Combine butter and olive oil in a pan, when the butter has melted, add pressed/crushed garlic. Stir so the garlic doesn't clunk together. Slice and wash leek, add to pan, stir until everything's shiny from the oil/butter, about 3 to 5 minutes. Add pepper, salt and a bit of nutmeg. Stir. Add a little bit of water and cover the pan to let the leek simmer.
Once the leek is all nice and soft (and smells wonderful if I may add) divide the leek over the 2 ramekins. Make sure you don't fill it all the way to the top! Break an egg over each ramekin and pop the ramekins into a hot oven (375 or something, I'm bad at Fahrenheit).

Leave it in the oven for a couple of minutes until the egg white has set, but the yolk is still nice and soft. Serve in the ramekin.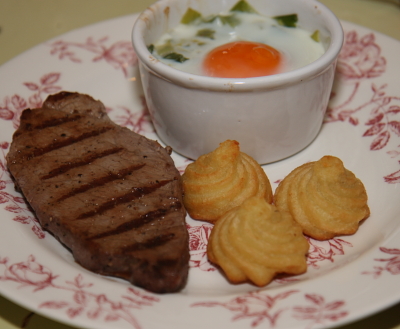 Would you like to get in touch, please don't hesitate to contact me via

my contact form.

Translate this blog

but don't expect it to make perfect sense!