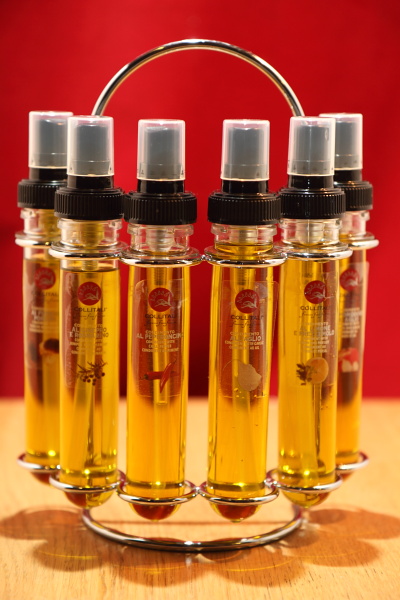 I was looking for some kitchen stuff at 'de Bijenkorf', a large high-end Dutch department store. Hoping to find a good deal on ceramics, specifically the new series of ramekins by Le Creuset, I ran into this cute oil set. Sure, it's not that much oil for your money (about 5 times the price of grocery store oil), especially since I wouldn't know what to do with the stand after I've finished the oils, but still, I couldn't resist.
It's high grade, extra virgin olive oil, cold pressed. That alone is tasty! But the great thing about this set is that all six bottles have different flavors. There's porcini mushroom, juniper and rosemary, garlic, chili, lemon parsley and tomato and garlic flavored oil in the set. The vials are equipped with a spray cap, so you can distribute little bits of oil to flavor things. I used it on my salad tonight, made a simple olive oil and himalayan salt dressing, though used less regular oil than usual. L and I both sprayed our own preferred flavor over the salad after. Nifty! And tasty too!
In regards to cooking tonight, it wasn't much to write about. I had a meeting 'til 9pm and by the time I got home I just wanted something quick. Fortunately I still had some pesto, dried pasta and tuscan sausages. Add a VERY basic salad with the nifty olive oil spray, and a tasty meal was done in less than 15 minutes. Tomorrow I'll have all day meetings in this crazy fancy conference center which has a 1 Michelin star restaurant. I'm guessing that'll keep me with more to talk about than tonight's food!
Would you like to get in touch, please don't hesitate to contact me via

my contact form.

Latest kitchen talk

Translate this blog

but don't expect it to make perfect sense!