First off, Italian lesson. Lasagne, the spell checker keeps trying to correct it to lasagna. The spell-checker is wrong. Lasagna is 1 sheet of the pasta you use to make lasagne. Lasagne is a dish with multiple sheets of lasagna with sauce in between.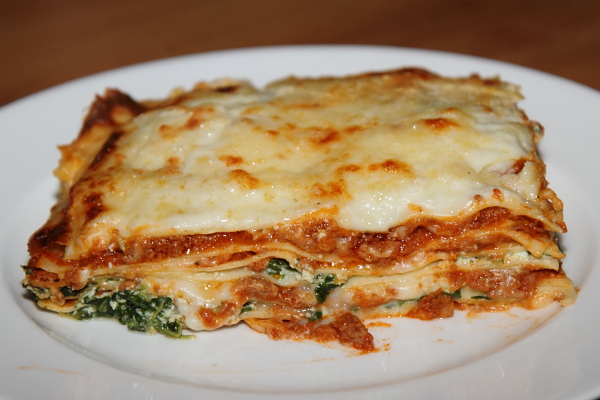 So I don't want to call my lasagne 'alla Bolognese', because that's actually a very specific recipe. Even though you can buy it anywhere, it's often not the real deal. Many cooks give their own twist to this very basic, yet very tasty sauce.
We were debating what to make for dinner. I knew I had to make pasta, as we hadn't had that in too long. Pasta really is a staple food in this household, we usually eat fresh pasta at least twice a week. L's Italian roots make me a happy cook! But it'd been a week, so pasta was much needed!
The next question was which pasta, and what else. When I make pasta, 9 out of 10 times we'll eat it like the Italians, in a small amount before the meat and side-dish course. The same goes for risotto.
I suggested lasagne or canneloni and L's face lit up. He then suggested to not eat it the Italian way, but add something extra, so it could be a meal. I figured a Bolognese-style sauce would work, plus a spinach-ricotta mix as an extra layer. Obviously you'll have the beschiamella as well, which means all in all you can have a full meal in one dish.
Lasagne alla Valerie (recipe for 6)

1 onion
1 carrot
1 stick of celery
2 cloves of regular or 1 bulb of chinese garlic
about 250-300 grams of beef (ground)
100 ml white wine
500 grams passata di pomodori
salt, pepper, italian seasoning
butter and olive oil
a batch of fresh pasta dough (200 grams flour)
1 tub of ricotta
about 250 grams of frozen spinach
1 batch of beschiamella (50 grams butter and flour, 500 ml milk, salt, nutmeg)
parmesan cheese

Start off by taking the spinach out of the freezer and putting it into a bowl to thaw!
The actual cooking process starts with the meat sauce. I grind my own meat, so I started off grinding the beef on a coarse setting. Chop the onion, garlic, celery and carrot in small pieces. Add some butter and olive oil to a pan and when the butter has melted, add the chopped vegetables. Cook the vegetables in the butter and oil for about 5 minutes, until they slightly start to soften. Add the ground beef. When the beef is about cooked, add the white wine. When the liquid has almost completely evaporated add about half the passata di pomodori, a pinch of salt, some fresh ground pepper and a pinch of Italian seasoning. Cover and let it simmer for 15 minutes or so.

Now, for the extra-extra tastyness, grab your food grinder, still on the course setting, and put the sauce through the grinder. It will then become a very fine grind of meat, with all the veggies mixed in. (You can't even see the vegetables anymore, so if you have picky non-veg-eaters, this is the way to give them their vitamins!)

Move the ground sauce back to the pan and let it simmer. Whenever it gets too dry, add a little more of the passata. In the meantime make your pasta dough, don't roll it out too thin (I use setting 5) and cut it into 10 by 10 cm pieces. The pasta will actually grow a little bit in the pan, so make sure you don't make 'em too big for your oven dish!!Put the pasta aside on a tea towel.
While my dough was kneading, I started on the beschiamella. Way easy to make, and it needs little attention. Melt 50 grams of butter in a pan, add 50 grams of flour and stir ferociously. Cook the flour/butter mixture on low heat for a minute or 2 before adding the milk. Stir or whisk the milk in (whisking prevents lumps, but you can always do that at a later stage too, beschiamella is very forgiving) and let it simmer to thicken up. Add a little salt and nutmeg and stir occasionally. Use low heat! When it gets too thick add a little bit more milk.
Boil salted water to cook the pasta. Use a BIG pot. Cook the lasagna sheets for about a minute and a half. It doesn't matter if they're not fully cooked, after all they'll still cook in the oven as well. Drain the pasta and lay the sheets out on a wet tea towel.
By now you can add any of the passata you haven't added to your pan yet, which will finalize the sauce. The sauce should be be very very thick!
Add the ricotta to your (by now) thawed spinach and stir them together.


In a buttered, fairly large casserole dish align the first layer of lasagna sheets. Scoop some meat sauce over them, add some beschiamella and a little bit of parmesan cheese. Add another layer of pasta, add half of the ricotta-spinach mixture, another layer of pasta, some more meat sauce, beschiamella and parmesan. Keep going until you run out of everything except for the beschiamella. Just use little bits of beschiamella after each meat layer and when everything is done cover the entire dish with the leftover sauce. Sprinkle with a some parmigiano and a couple of thin slices of butter.
Place the lasagne in a pre-heated oven (about 180 to 200 degrees celsius) for 30 minutes or until the top is nice and brown. Serve piping hot with a glass of the same wine you cooked with.
So obviously this is my version of the Silver Spoon version. If you have your own version of Bolognese sauce, give my method of grinding the sauce after it's cooked for a bit a chance. It drastically enhances the flavor. Not necessarily changing it, just making sure that every single bite has all the amazing flavors fully incorporated. It's amazing! Plus it really thickens the sauce very evenly, which is nice for 'pasta al forno', pasta from the oven.
Would you like to get in touch, please don't hesitate to contact me via

my contact form.

Translate this blog

but don't expect it to make perfect sense!