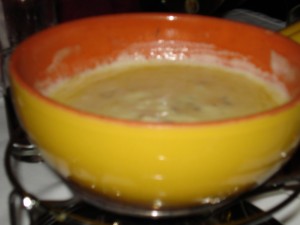 Last night, instead of cooking, we checked out de Hartentuin. My dad and I have always been crazy about cheese fondue. As a little kid I loved the stuff, which is – to the least – unusual. My brother grew in to it later, when he realized that melted cheese and wine weren't such a bad combo. L loves it too.
When you think cheese fondue in Amsterdam, you automatically think 'Bern' on the Nieuwmarkt. Granted, their food has always been excellent, but that means it's always full. They actually add different parties to the same table, which isn't always wonderful. Also, parking in that area is terrible! Besides the fact that it's insanely expensive, you'll be searching for a spot for hours.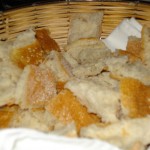 Searching on the web for other fondue places in Amsterdam, I stumbled upon de Hartentuin. It's a restaurant fairly close to our home (3 tram stops apart) and advertises being Swiss, which is a big plus when it comes to fondue! I'd tried to make reservations twice before (but on days they were closed unfortunately) and discovered the 2 people who answer the phone, both held a thick accent. That's great! They're the real deal.
This week, finally, de Hartentuin's and our schedule matched. And wow, am I glad it did. It's a clean, straightforward restaurant. White linens, simple bistro chairs, not over-lighted, but not needing a flashlight to read the menu either. As usual in Holland, the tables weren't large, but then again, it wasn't too crowded with tables either, so it doesn't matter that much. When you sit back to back, a small table is terrible, but when there's room, it's cozy.
The menu came in 2 parts, the non cheese-fondue menu, with starters, entrees and side dishes. Then there was the cheese fondue menu. Besides the standard fondue, they sported a bunch of less traditional fondues. Some of them seemed completely plausible, others a little far fetched. I don't get how you should eat pineapple and curry fondue, having the pineapple stick to your bread, seriously, don't get it! But I assume that caters to the same crowd that likes pineapple on pizza's and burgers. Yes, you understand correctly, you will never read a review for something like that here!
We opted for two different fondues. A classic, no frills fondue and one with Gorgonzola. They were both very good. Thick with cheese, flavorful with wine. Not like some places that fly the cheese by and then thicken it up with corn starch. The bread seemed less classic, but was tasty nontheless. We also ordered a salad, which was nothing special, but hey, you need some green too (and the flecks of green in the Gorgonzola don't count towards that), the Bundnerfleisch (air cured beef-ham) was wonderful.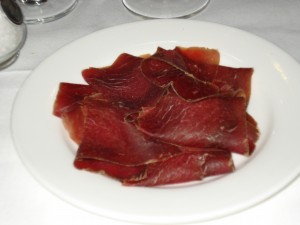 All in all a very nice dinner. Depending on you choice of drinks and side dishes, this can be a very reasonably priced meal. If you go all out with all the possible side dishes, it could get a little expensive, plus you wouldn't be able to eat it all. While walking out we read a sign that said 'all fondues half off on Mondays and Tuesdays. We will definitely be back!
Recipe for a standard fondue (my own style, serves 2 easily!)

150 grams of Gruyere (grated)
150 grams of Emmenthaler (grated)
50 grams of Appenzeller (grated)
50 grams of Abondance or Fontina (grated)
200 ml of a dry white wine
1 clove of garlic
a little bit of corn starch
a little bit of kirsch (clear liqueur)
nutmeg
fresh ground (white) pepper

Rub the inside of your pan (preferably a caquelon) with crushed garlic. Throw out the garlic after the pan has been rubbed completely. Pour the wine in the pan, put it on medium heat, until it gets hot/starts to simmer. Add the grated cheeses by the handful. Stir and when it's melted add another handful. When all the cheese is in and melted combine a little bit of cornstarch with a little bit of kirsch, to make a fairly liquid mix. Add to the fondue and stir. The cornstarch will make sure the cheese, oil from the cheese and wine mix well and don't stay separated in the pan. Add a tiny little bit of nutmeg and some fresh ground pepper to taste. White pepper works best, but any other will taste nice too!

Serve with bread, for dipping, the same wine you used to cook (I highly recommend Fendant!) and possibly some salad. Some people serve cherry tomatoes, broccoli or other veggies cut small to dip in the cheese. I don't mind that, but it's not my first choice as those veggies don't soak up the cheese like bread does.
De Hartentuin is located at Amstelveenseweg 89 in Amsterdam, they're closed on Wednesdays, making reservations is recommended, though not always necessary.
Would you like to get in touch, please don't hesitate to contact me via

my contact form.

Latest kitchen talk

Translate this blog

but don't expect it to make perfect sense!