It's a good thing Laurens comes from an Italian mother and has absolutely nothing against his heritage, because  I've been on an Italian streak this year. I've always cooked a lot of Italian, or Italian-inspired foods, but lately it's been Italian all the way. As I challenged myself to 4 new restaurants this year and 4 dinner parties, I should've possibly specified 4 new cuisines, because so far all the new restaurants have been Italian and every dinner party I've thrown has seen pasta or risotto.
Regarding the restaurants, first there was 'Hot Meeting',. Admittedly that doesn't necessarily sound very Italian, but when you hear that it's located in the university district just outside the center of Milan, you get the idea.
Then there was Il Paradiso, which I completely forgot to blog about. It's an Italian eatery close to our house in the suburbs, which served wonderful food, but had awful awful staff. We were happy to find out they delivered as well and that delivery was quick and easy, so we've eaten from them again, just not at the restaurant. We actually ordered my birthday dinner from them. They serve a bunch of truffle dishes that burst with flavor.
Then there was lunch, at Barista in the Spuistraat in Amsterdam. With Barista you think coffee, and I've got to tell you, their coffee was awesome, but the true star of the show were the fresh ingredients in my panini. When I later took Laurens there for dinner, we were both very happy with their fresh pasta as well.
So the first 3 new restaurants of the year were all Italian.
And then we decided to go out for a cheese fondue at de Hartentuin. We hadn't been there for a while and I felt like going out instead of cooking or ordering in. I was looking forward to all the cheesy goodness when we got on the tram. We walked towards the restaurant and couldn't find it. We walked down the street three times and saw the Thai, the bar, the Italian restaurant, a crepes place, but no Hartentuin. Wondering whether I had mistaken the address I grabbed their business card which I had on me and found that they had disappeared. It made me sad, no cheesy goodness. We still needed to eat however.
Enter L'Incontro.
L'Incontro looked nice from the outside and I vaguely recalled wanting to go there for restaurant week. We decided to give it a try. We were welcomed with a glass of Prosecco, a couple of rolls with olive oil and 2 slices of truffle toast before we browsed through their menu.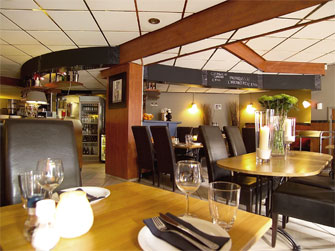 It wasn't until later that I realized that by stepping into L'Incontro I'd fulfilled my goal of 4 new restaurants. And it wasn't until I started writing this review that I realized all those restaurants had been Italian.
L'Incontro is -as far as restaurants in Amsterdam go- a fairly upscale Italian restaurant. Where most of Amsterdam's Italian restaurants are cheap pasta and pizza places that serve crappy wines and cheap food (both in price and quality), L'Incontro gives you a glass of Prosecco and some really nice truffle toast when you enter. Their menu isn't cheap, but that's okay. No decent, good quality restaurants really are.
L'Incontro's menu is extensive, but not in the 367 different pizza toppings kind of way. They have a decent amount of options for each possible course of a menu. Hot and cold antipasti, salads, soups, pasta's, pizza's, meat and fish dishes. Since we figured that the serving sized would probably not be Italian sized, we both opted for an antipasto and a pasta. Laurens chose Vitello Tonnato as a starter and I chose the Involtini di Melanzane, rolled up, cheese stuffed eggplant.
The eggplant dish was pretty good, but not exceptional. I think they either used Dutch ingredients or adapted the dish to Dutch taste, because the dish tasted a little flat. Not unpleasant, it was tasty even, but not exceptional. Laurens said about the same about his Vitello Tonnato.
When I chose my pasta course, I realized that I was potentially setting myself up for disappointment. They had a dish on their menu which had the exact ingredients listed that Tarantella lists for their 'Fussilli alla Carbonarina'. I knew there was a very, very big chance that it wouldn't be the same. I didn't want to take the chance that it actually was the same dish and I wouldn't know to look for another name for the recipe.
So I chose the 'Farfalle alla Zingera' and Laurens picked one of the fresh pasta's, 'Lunette al Tartufo'. When the pasta's arrived I knew it wasn't the same. It didn't have the explosive smell, which meant it couldn't have that same explosive taste either. In all fairness, if I'd never eaten the dish at Tarantella before, I would've thought it was great. Laurens' lunette however, were phenomenal. The simplicity of the dish only enhanced the amazing flavors. Truffle and ricotta wrapped in fresh pasta dough served with some roasted tomatoes, fresh arugula and a drizzle of olive oil. Fresh pepper and fresh grated parmigiano completed his dish. It was heavenly (I made him give me a bite) and has definitely made it to my top-rated dishes – only slightly below the Carbonarina. We drank a simple white house wine, which was a decent wine at a decent price. Just what you expect from a house wine.
After hearing the waitress (in Italian) asking the owner if she couldn't have a piece of Tiramisu 'because it's Sunday', we knew that we needed to share that dessert. Both of us knew we wouldn't finish a whole serving, but we did want to try. The Tiramisu was wonderful. Full of flavor. If made at home we would've possibly added a little more booze, but that's something you just don't do at a restaurant, and honestly, the flavors were amazing. The perfect ending to a nice meal.
We finished our evening at L'Incontro with an espresso and a sambucca, which was the only true disappointment of the evening. L'Incontro apparently serves 'Smit en Dorlas' coffee, which really isn't the best there is. After a dinner that's so carefully prepared and so authentically Italian, you expect a well brewed espresso made from great beans. This cup of coffee surely wasn't great. It didn't even near the good category, but stayed stuck at 'average', which -at an Italian restaurant- is kind of a disappointment.
All in all L'Incontro was a good find. We'll likely go back there again, and will recommend it to (or take) friends. I will however encourage them to order their fresh pasta, but stay away from the coffee!
Would you like to get in touch, please don't hesitate to contact me via

my contact form.

Latest kitchen talk

Translate this blog

but don't expect it to make perfect sense!