I'm so, so, so sorry I haven't found a way to make smelly-pictures yet. I would really love to let you smell the food I made today!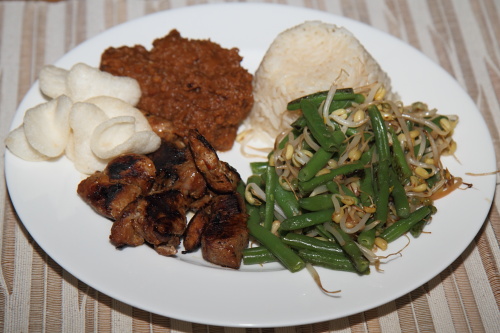 Indonesia once was a Dutch colony. Now the whole colony thing obviously was (and is) frowned upon. The basic rule should be 'don't invade countries and take over their land and resources as your own'. Despite the fact that it's all kinds of politically wrong, it did bring the Dutch a lot of good. (Yes, money and all, but I'm not talking about that.) It brought us fantastic spices and Indonesian cuisine. And Indonesian cuisine is awesome! And not even that hard to make. (And it smells GREAT!!!)
Sure there are tons and tons of Indonesian recipes that I haven't tried making. And to be brutally honest, I don't cook much Indonesian food. But once in a while, cooking Indonesian specialties is very awesome!
Now the Dutch actually do cook things with Indonesian influence pretty regularly. They forget the heritage though. Saté (satay) is something that's eaten here very often. Not just the skewers of meat which people put on the grill (or in the oven), but also just the satay sauce that's served with anything and everything. Satay sauce almost sounds Dutch to many Dutchies. It – however – originates from Indonesia.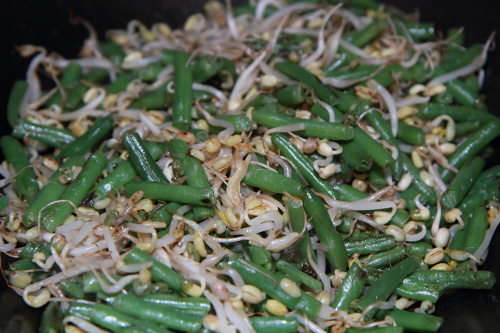 When grabbing a bag of lettuce from the produce refrigerators at the store, I saw gorgeous looking bean sprouts placed next to the lettuce. A shelf lower there were bags of green beans. It suddenly dawned on me that I could make Indonesian-styled food. There's an Indonesian dish, gado-gado, which can vary greatly, but it always has bean sprouts, green beans and satay sauce. I figured if I'd be making satay sauce, I should make satay (meat) as well. After that just add rice and 'kroepoek' and you've got yourself a meal!
The gado-gado I made was the simplest version there is. The satay sauce was easy-peasy too (I didn't even bother thinning it into a real sauce, taste is still wonderful!), most of the work was actually marinating the pork. Not that marinating is hard. It's not. It just takes the most time of all the dishes (and a little gathering of the right spices, possibly…)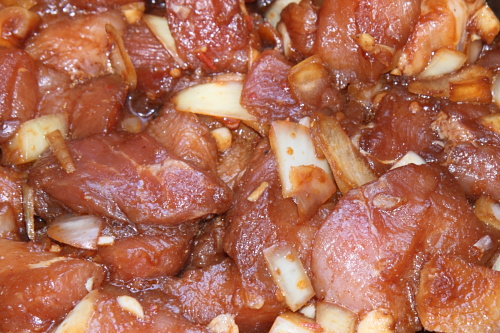 Pork satay

Pork (leg steaks of chops or so, preferably a darker cut)
Sambal (chili based condiment, any style)
onion
garlic
ketoembar (ground coriander seed)
djahe (groeund dried ginger)
djinten (ground cloves)
vegetable oil
soy sauce
peanut butter (organic, basic stuff, no additives/sugar!)
water and/or milk
wooden skewers (prepared, optional)

If you like your satay on skewers, you need to start by preparing your wooden skewers. Place as many as you need in a bowl of water and keep them there for many hours to prevent burning them when grilling.

Start with the marinade. Combine a good amount of soy sauce, some vegetable oil, sambal (to taste, the stuff is HOT), 1 onion (chopped) and 4 or 5 cloves of garlic (chopped). (Make sure you have enough to generously cover all your meat.)
Add a generous amount of djahe, ketoembar and djinten. Mix everything together.
Cut the pork up in smallish pieces (a good size to place on skewers) and add to the marinade. Mix well, so everything is well coated. Place in the fridge and don't touch it for at least 4 hours.

When you're ready to start grilling, remove the marinating pork from the fridge and take the meat from the bowl, but save the marinade. Place the meat on skewers (optional) and grill until they're completely done.
While the meat is on the grill, prepare the satay sauce. Start with the marinade, pour that through a food processor or grinder or something like that. Just make sure it's all smoothed out and you don't have pieces of onion or garlic anymore.
Pour the processed marinade in a pan and heat it (to a boil). As soon as it's boiled, turn the heat down. (The only reason it needs to boil is because there was raw pork in there for 4+ hours.)
Add a large amount of peanut butter to the warm processed marinade. (I use a small jar.) Stir vigorously. Taste, taste, taste. Add more soy sauce, sambal, or spices if you think it needs a little extra taste. It'll be very thick. Add a little water to thin it a bit (this doesn't alter the taste, but doesn't make it much thinner either). Heat it through and serve over the grilled meat. (If you want a real thin sauce, add milk, works like a charm, but does make the taste a little milder!)
The same satay sauce can be used over chicken (replace pork with chicken breast) and over the gado-gado (just steam the green beans, stirfry steamed beans and bean sprouts and pour satay sauce over them) or eaten with rice. You could always just make a marinade without placing meat in there and using that as the base of the sauce. In Holland people even eat thin satay sauce with their french fries. It's good, I promise!
Would you like to get in touch, please don't hesitate to contact me via

my contact form.

Latest kitchen talk

Translate this blog

but don't expect it to make perfect sense!