Now that I've managed to poach an egg, I've become somewhat obsessed with it. Well, not really, but I did figure I could give it another try.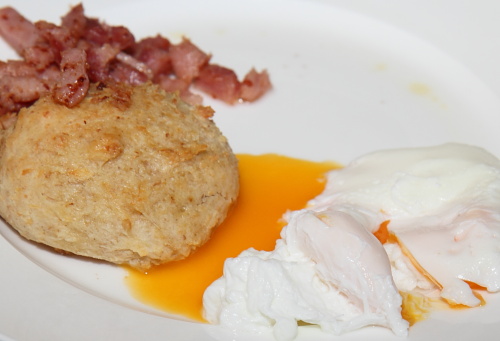 Making breakfast when you didn't think of actually buying breakfast, is always a challenge. I got up and had a growling stomach. Never a good sign. Especially when you then realize that you need to buy groceries. Las week has been such a weird week, with multiple nights of working late and way too many obligations to fulfill. Thinking about weekend groceries during the week, was about the furthest thing from my mind.
But then I woke up on Saurday. And had a growling stomach.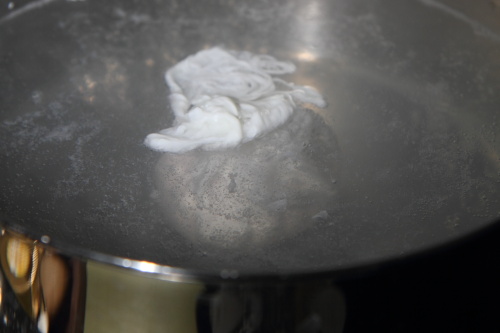 L was still sleeping, which gave me time to figure out what to do about breakfast. Would I quickly jump in to some clothes and make a quick grocery run? Or would I wing it?
Wing it it was! I figured I always have ingredients to bake something myself. So why change out of my pj's if I can just as easy whip up a batch of something to go in the oven.
I decided on making a new batch of biscuit mix. It's basically bisquick without any additives, made at home, stored in the fridge and always at your disposal. You can actually alter the flour that goes in, so it becomes more to your taste. Whole wheat, plain flour, whatever you like. I like to always keep a container of the mix in my fridge, but recently I kept postponing. I needed a new batch of biscuit mix and I needed breakfast. So I solved both issues at once.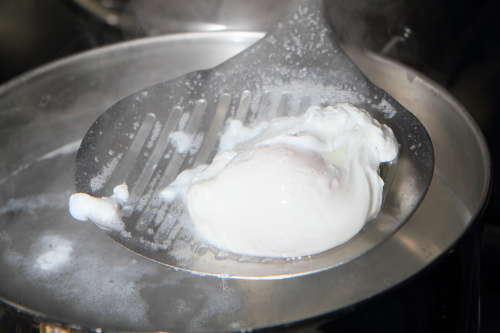 Now just plain biscuits with a little butter (or a little sugar too) are a very tasty breakfast to me. However, I figured I could mix it up a little. Make something resembling more of an actual full meal/breakfast/brunch. So in addition to the biscuits (which magically became cheese biscuits) I cooked some ham and poached an egg for each of us. Now the eggs I used were 2 days older again, so to make it into a pretty poached egg was harder even. But I succeeded in poaching two egg that were very edible. Tasty even!
Biscuit mix (partially whole grain)

1/4 cup of baking powder
4 cups of plain white flour
1 cup of whole grain flour
2 tbsp white sugar
1 tsp salt
1 cup lard

Mix all the dry ingredients in a bowl, add the lard. Cut the lard through the dry ingredients using a pastry blender. Once fully mixed (no lard or dry ingredient lumps, the whole mix somewhat resembles breadcrumbs) place in the refrigerator in an airtight container. Use like you would use any store bought biscuit mix. (This mix makes awesome pancakes too, just add regular or buttermilk and an egg to make a pancake batter!)

Cheese biscuits

biscuit mix
milk
grated cheese

Place as much biscuit mix as you need in a bowl, add some grated cheese (a 1:2 ratio cheese:biscuit mix is the maximum) to the bowl. Pour in some milk, a little at a time, mix well. Keep adding a little more milk if necessary. You want a very sticky soft, but not runny dough.

Using 2 spoons drop small amounts of dough on a cookie sheet. Bake in a pre-heated oven (about 190 degrees celsius) until they're golden brown.



Would you like to get in touch, please don't hesitate to contact me via

my contact form.

Latest kitchen talk

Translate this blog

but don't expect it to make perfect sense!