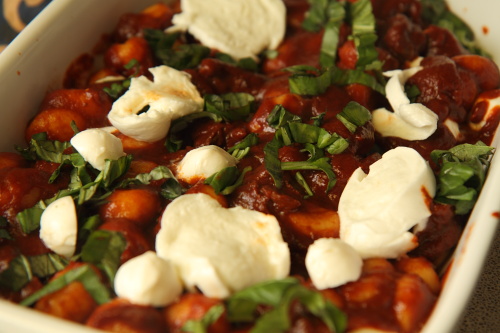 So I'm all Italian themed here, as you can see. 2 Italian dishes in a row. But both had been promised previously. I've been wanting to make my own gnocchi for a long time, but still haven't succeeded. I don't have one of those potato strainers, or whatschamacallit, which is essential for good home made gnocchi. I figured I could get away with buying it once more though, instead of making inferior gnocchi myself.
Now there are about a zillion different recipes for gnocchi, like there are insane amounts of general pasta recipes. One of the versions I like, is the 'alla Sorrentina'  version. Or at least something like that. I'll always have to improvise a little, obviously.
Now while I was cooking this, I was also cleaning the kitchen, which led me to not look at it all too closely, which resulted in it almost burning. Oh-oh. Fortunately I thought of it just in time and saved the dish.
Now this is a very very simple version. It's gnocchi al forno, from the oven. Most of the cooking, as usual, is done outside the oven though. Making the sauce, cutting the meat, boiling the gnocchi, but all in all it still isn't all that much work.
[print_this]Gnocchi alla Sorrentina-ish

1 package of passata di pommodoro
1 clove garlic
some olive oil
1 beef shank
1 package gnocchi
some fresh basil
1 piece of fresh mozzarella

Pour some olive oil in a Dutch oven and place the shank and a crushed clove of garlic in there. Once the shank has browned a slight bit, Pour in the tomato sauce. Let it simmer for a while, to infuse the flavors. Once the meat has been fully cooked and you feel like it's been cooking long enough, remove the shank from the pan, cut the meat off, into little pieces and put the pieces back into the tomato sauce.

Boil the gnocchi, they're done once they start floating. Remove them from the pot using a slotted spoon and place them in the tomato sauce.

Cut the basil into thin strips and stir about 3/4 of it through the gnocchi/tomato mixture. Pour all of that in a casserole dish. Sprinkle the rest of the basil on top, cut the mozarella into smallish pieces and place that through and over the gnochhi. Place in a hot oven until all the mozzarella has melted and the top pieces have browned just a slight bit. Enjoy!!!

[/print_this]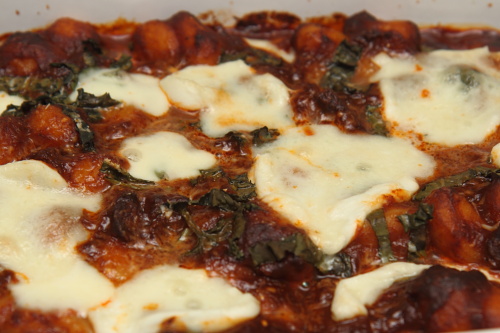 Would you like to get in touch, please don't hesitate to contact me via

my contact form.

Latest kitchen talk

Translate this blog

but don't expect it to make perfect sense!