I still owed you my ham and pea pasta recipe. We ate it when I needed a quick dinner after I came home way late after a meeting. I didn't even feel like making my own pasta anymore, I was so tired. and making pasta really doesn't take all that much time. But I couldn't help it, I was beat.
Kinda like now, I should really get myself to bed, but I can't go, still have to write this up. That's how much I love you! Aren't you flattered? Oh please, say you're flattered.
So I was tired, and needed food. Something tasty, something comforting, something quick. I still had some ham in the fridge, there's always cream and so this dish was born.
I can tell you, it was comforting!
[print_this]Pasta with ham and peas

1 serving pasta per person (fresh or dried)
A package of sliced ham
about a cup of frozen peas
a generous pour of heavy cream
italian seasoning
olive oil
pepper
salt
parmigiano

Put a pot of water on your stove and get it to boil. Drizzle some olive oil in a pan and add the ham, brown it a little, add a pinch of salt, some fresh ground pepper and the italian seasoning. Pour the cream into the pan with the ham, add the frozen peas. Cook until everything is heated, but don't let the peas get mushy. In the mean time cook the pasta, drain and add the cooked noodles to the pan with the sauce. Stir (don't squish the peas) so that everything is covered in sauce. Sprinkle a little parmigiano over the pasta and enjoy!

[/print_this]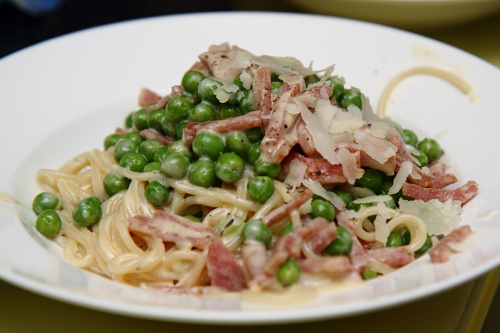 Would you like to get in touch, please don't hesitate to contact me via

my contact form.

Latest kitchen talk

Translate this blog

but don't expect it to make perfect sense!