My car is very very blue again. Or that's what L said after we left the carwash. I hadn't decided what to make for dinner yet when we drove by the grocery store. I asked L whether we should go in. We both sincerely hate Saturday afternoon shopping, so we decided against it as I quickly figured out what I still had left in the fridge. I knew there were mushrooms that desperately needed to be eaten, some heavy cream that neared it's best-by date and some biscuit dough mix I'd made a couple weeks ago and saved. The biscuit mix is awesome, it's like having a box of bisquick on hand without all the additives.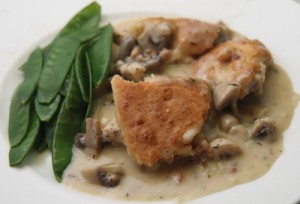 I proposed making a chicken and mushroom pie, with biscuit dough as pie crust. L agreed, so we stopped at AH-to-go (tiny tiny little rail station grocery store that has basics but nothing more) to pick up a chicken breast and a tiny bottle of wine.
The pie was a recipe I'd never made before. Actually, I didn't even have a recipe, but I figured it'd work and be tasty. so why not. I ended up just making it up as I went along and ended up with a fabulous dish which I'm sure we'll make many times over! It's got a perfect blend of flavors, without anything overpowering. And best of all, except for the chicken and mushrooms, you'll usually have the ingredients anyway!
Chicken and mushroom pie (could serve 4, did serve 2)

1 large chicken breast
1 box of mushrooms, any kind
bacon bits (not too many, but enough to give off flavor)
1 clove of garlic (it really doesn't need more, or it'll overpower the subtle flavors!)
butter
all purpose flour
heavy cream
white wine
dried herbs to your taste (I used rosemary, thyme, sage and parsley)
fresh ground pepper
biscuit mix (bisquick or home-made)
milk
grated cheese (optional)

Fry the bacon bits, add a little olive oil to get them going, if needed. Cube chicken and sprinkle herbs and fresh ground pepper over the cubes liberally. As soon as the bacon is crispy (and has released enough fat to cook chicken in) add the chicken. Cut the mushrooms into quarters and add to the pan. Cook for a couple of minutes and transfer the mixture to a deep pie pan. Don't worry about leftover bits of herb or bacon and grease!
In the same (now empty) pan melt some butter and press the clove of garlic into the pan. As soon as the butter has melted add flour and stir until it's completely incorporated. Cook the mixture a couple of minute until it browns a slight bit. This'll make sure it won't taste flour-y. Change your wooden spoon for a whisk and pour a liberal amount of heavy cream into the pan – wile whisking ferociously. Whisk until the cream is incorporated and there are no lumps in the sauce. Add white wine and repeat, more cream is an option too, just add liquids until your sauce has a nice thickness. Make sure you do add some wine though, that really adds flavor (and the alcohol will boil out, so don't worry about serving it to kids…)
Put the mushroom/chicken mixture back in the pan with the sauce and stir so that everything is  covered with sauce. In the meantime prepare the biscuit dough. I added grated cheese to the mix and poured milk in and mixed it until it was a little softer than you would for making biscuits, but still thick enough to spread like a crust.

Put the chicken/ mushroom/ sauce mix back into the pie pan, scoop the biscuit mix on top and spread it out evenly. Don't worry if the dish isn't fully covered. Bake in a pre-heated oven (just under 200 celsius) until the biscuit crust is nice and brown.
Would you like to get in touch, please don't hesitate to contact me via

my contact form.

Latest kitchen talk

Translate this blog

but don't expect it to make perfect sense!