So I thought my cantuccini were totally screwed up. I was wrong. Yes, they were a little on the thin side, but that's mainly because they were so wide. If I'd started out with thinner strips of dough, maybe made sure the dough had been a little firmer, they would've been perfect.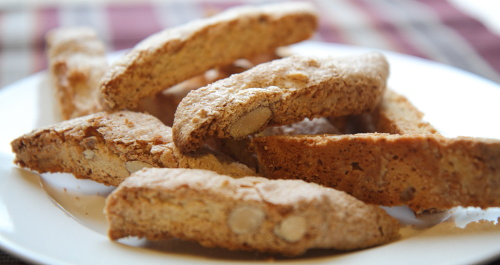 They tasted really really good dough!
Next time I'll omit the extra drop of vanilla extract I added (not in the recipe). And I'll make sure I'll have enough whole almonds to cover the entire batch, instead of replacing part of them with slivered almond. But all in all, I can't really complain. First time trying and the taste is awesome.
Yes, I already tasted more than 1.
For those of you who think these are biscotti. They are! No, I'm not confused about the name. Biscotti is basically Italian for biscuits. Biscuits as in cookies. Biscotti, therefor are cookies. And cantuccini are a style of biscotti. Capisce?
Look at them while I was cutting them.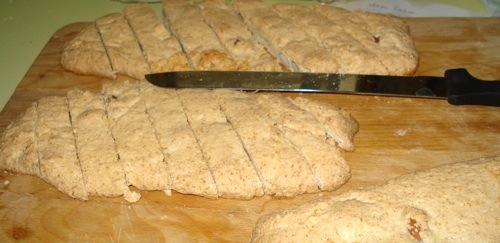 And while I had them placed on the cookie sheet, cut side up.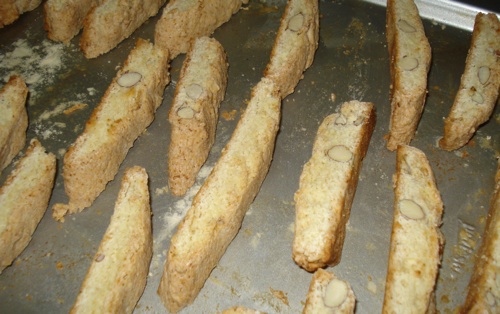 And after I'd flipped them.
And when they were done.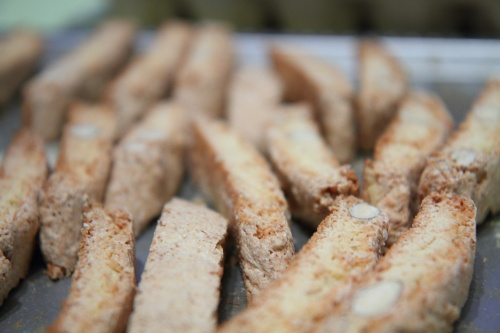 Yummmm. Will definitely make them again. And will look for more cantuccini recipes. Every Italian region has their own regional recipe. Kind of like pasta sauces. Which means I can keep on trying more recipes. And keep on eating fresh cantuccini. I will not mind this! (And I'm sure neither will L… or my co-workers… or my friends…)
So here goes the recipe:
Cantuccini alle mandorle (Italian crispy almond cookies)

250 grams plain white flour
200 grams fine sugar (caster preferred)
2 eggs
vanilla
salt
100 grams whole almonds
1 tsp instant yeast
butter and flour to coat the cookie sheet

First off, traditionally you knead this dough by had. I'm lazy and use Anne-Sophie.
Mix flour, sugar, a good pinch of salt and vanilla (I used home made vanilla sugar and replaced about a big spoon of caster sugar with home-made vanilla sugar that's been standing for 3 days, so hasn't reached full flavor yet. If you used store bought vanilla sugar, use half a pouch! If you use vanilla extract 1/2 to 3/4 tsp of extract should do the trick.)
After this is mixed well, add 2 eggs. Keep mixing and add the instant yeast. When the yeast is mixed in, add the almonds. By now my dough turned out to be soft and sticky. Next time I will place it in the fridge for a while to stiffen it up. (If you're kneading by hand, make a little pile of these dry ingredients, make a dimple in the middle and add the eggs in there. Then knead. Then first work in the almonds and finish with the yeast.)
Butter your cookie sheet, sprinkle some flour over it too. Put your cantuccini dough on there in thin rolls, 3 or 4 cm (1 to 1 1/4 inch). Make sure the strips of dough don't touch. If during baking they sag out and do touch, cut them apart with a knife and try to keep them separate.
Bake the cantuccini in a pre-heated oven (180 degrees celsius) for 30 minutes. Remove from oven and cut into thin (1cm) slices (diagonally). Place them on the cookie sheet cut side down. Bake for another 5 minutes, flip over and bake another 5 minutes.
When you take the finished cantuccini from the oven, they'll be crispy from the outside, but still slightly soft/chewy on the inside. If you're patient and don't eat them all before they're cool, they'll transform to the really hard, crispy cookie we all know and love!
Would you like to get in touch, please don't hesitate to contact me via

my contact form.

Translate this blog

but don't expect it to make perfect sense!