I've fallen behind on my updating a bit. It's been a strange week, with a funeral service on Saturday, the actual funeral on Monday, the Dutch National remembrance day and today our Dutch liberation day. In between there was work and general chores at home. So busy and weird, and not so much time to update here. This weekend I'll be going away Friday and Saturday with a group of friends, so then again I'll probably not have too much to update about. This however, doesn't mean we don't eat. It doesn't mean I didn't cook. Okay, much of it has been quick and easy, but still, I should post something.
As I'm typing, L is picking out and resizing pictures. We had a lazy evening, just watching tv. We'd fallen behind on watching House, which led to us watching two episodes tonight. Yay, I love House. Anyways, L is making sure we have pictures of the food again!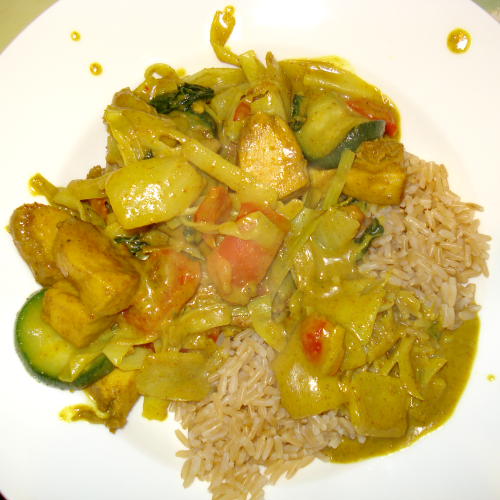 Today, after actually working on my administration for a large part of the day, I wanted something easy and tasty. I still had some chicken in the freezer and I hadn't actually made something with curry for some time. I had to go by the grocery store anyways, so I picked up a small package of coconut milk and figured I'd just wing it with whatever was left in the fridge and/or freezer.
All in all it turned out to be a tasty meal, which took about 15 minutes to make. Great for a day when you don't feel like standing in the kitchen for hours.
Chicken Masala (recipe for 2)

2 small (half) chicken breasts
small package of coconut milk
ground chili pepper
salt
masala (or another type of curry powder)
small package of (frozen) mixed vegetables (Asian preferred)
vegetable oil

Cut the chicken breasts in smallish pieces. In a bowl, combine the chicken pieces, about a tablespoon of masala, 2 pinches of salt and some freshly ground chili pepper. Drizzle a little oil over the chicken and stir to coat with oil and spices.

Put a non-stick skillet on the stove, don't add oil. Once the skillet is on the stove, put the chicken in the skillet and cook until slightly browned. Once the chicken has some color, add the coconut milk and let it come to a boil. Stir and add some more masala powder (another tablespoon or so, to taste) and more salt and chili powder if needed.
Let the chicken simmer in the coconut milk for about 5 to 8 minutes (until the chicken is cooked thorough and the sauce has thickened a bit.)

Add the vegetables to the chicken and sauce and heat through. (If using frozen veggies, I recommend defrosting them before use).
Serve with rice.
Would you like to get in touch, please don't hesitate to contact me via

my contact form.

Latest kitchen talk

Translate this blog

but don't expect it to make perfect sense!