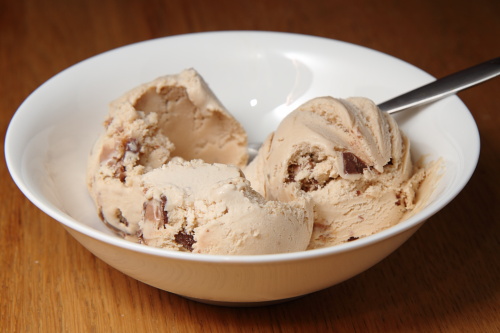 Yesterday it was hot out here. So hot my boss decided we all could leave the office at 3. This did or did not have anything to do with a soccer world cup quarter final that my country was or was not competing in at 4. I didn't really care what the reason was, I was happy to get out of my stinky, sweaty, way too hot office. I really need to buy a fan.
So I went home, poured myself a big cold diet coke and decided I'd much prefer frozen coke. Then I figured, hey, I have an ice cream maker, I bet it can make frozen coke too. So I turned the machine on, poured half my bottle of diet coke in there and figured the churning-freezing thing would give me the delicious summer drink I love to have on hot Colorado days.
I don't know if it was the fact that the coke was diet, and that there's sugar needed to make it work. Or that an ice cream maker just churns too slowly, but it was an epic, epic FAIL. The diet coke froze to the botten and sides instead of moving around and somewhat freezing throughout. my ice cream maker started making a funny sound, so I went and looked and it was moving, but in shocks splashing diet coke everywhere. It just kept getting cought on the pieces of solid frozen diet coke on the bottom and sides.
I wonder if it just needs to move around faster to prevent it from sticking, if it needs to be more sugary, or that frozen coke is just chemically altered so that I actually don't want to drink it anymore. Anyways, I'll just go back to my old method of placing the coke in a shallow bowl in the freezer and scraping a fork through it every 20 minutes, much like you'd make a granita.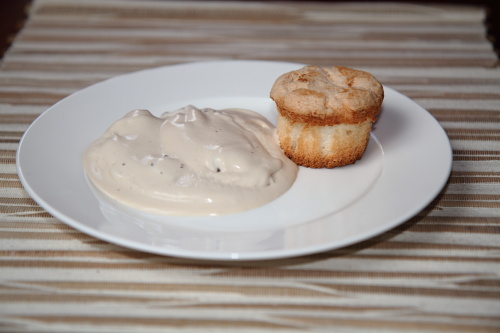 What does work in an ice cream maker, is ice cream. All kinds of ice cream, or sherbet or whatever is not coke that splashes around. Anything that can deal with a slow churn and doesn't freeze to the sides in an instant, works wonderfully.
2 weekends ago I mentioned that I was going to make ice cream in my then brand-spanking-new ice cream maker. And I did. And I will give you the recipe and you will ooooohhh and aaaaahhh over the deliciousness and simplicity of the whole deal. Really, making ice cream is sooo much easier and more fun than I ever imagined. And this time L actually took a whole lot of photos of the process. Which is good. You can see all the stages toward deliciousness.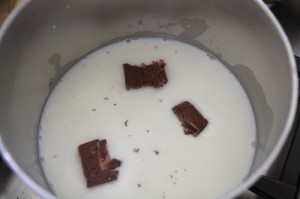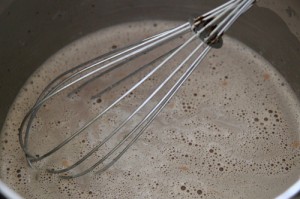 I truly truly love making ice cream and wonder why I hadn't done it before. The only thing is egg whites. What to do with all the leftover egg whites. I still have a dozen angel food cupcakes in my freezer, so I don't really want to make more of that. I don't really like egg white omelets, I just miss the yolk too much. What do you do with your leftover egg-whites. Just tossing them seems like too much of a waste.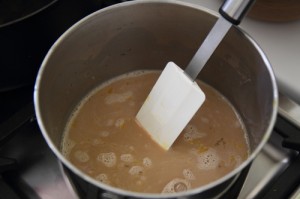 Today I think I'll make gelato alla nocciola, or hazelnut ice cream. Hazelnut is without doubt my very favorite ice cream flavor. Sure I love, love, love me some Baskin Robbins pralines and cream, and Ben and Jerry's cookie dough, or plain old cookies and cream, or Haagen Dasz vanilla swiss almond, but if I could pick anything in the world, I'd go for italian gelato, nocciola flavor.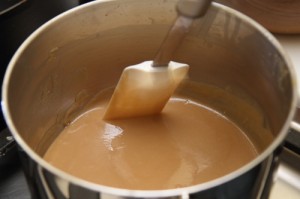 I found a recipe, in Italian, from an Italian website, that actually uses whole eggs (separated, but still yolk and white) for gelato alla nocciola. I will try that. If it's not wonderful, I'll try one of the other millions of recipes you can find, and I'll go back to saving tons of egg whites. But for now I'll try this. And I'll let you know how it works out!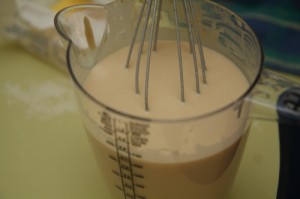 [print_this]Candy bar ice cream (recipe for about 1 quart or so)

1 1/2 candy bars (Mars, snickers, or some generic chocolate-caramel thing)
2/3 cup milk
3 egg yolks
1 1/3 cup heavy cream
1/2 cup caster sugar
a pinch of pink himalayan salt

Combine the milk, sugar, salt and about half a candy far in a pan. Stir until all the candy bar has malted and it comes to a slow boil. Turn off the heat and let it cool off a slight bit while separating the eggs and putting the egg yolks in a bowl (I actually used a big measuring cup from which I could easily pour.)
Once the egg yolks have been beaten in their bowl very slowly pour the milk/candy bar mixture into your yolks while whisking feverishly. You want to go very very slow to prevent the yolks from cooking and you ending up with egg-piece-chocolate-ice-cream!

Once all the milk has been incorporated into the egg yolks, pour the mixture back into your pan, turn on the heat very very low and stir constantly to make the custard. Make sure you scrape the bottom and sides so you don't get lumps. Once the custard has thickened take it off the heat. Pour the heavy cream into the same bowl or measuring cup you've used before and slowly whisk in your custard. Make sure you scrape the pan and make sure you whisk so all is incorporated. Place the bowl in the fridge to cool off completely before churning it.
While it's cooling, cut your leftover candy bar into little pieces.

Assemble your ice cream maker, start it and pour your ice cream base in. Once it's been churning for 5 to 10 minutes, slowly dump in your candy bar pieces. Keep churning for a total of 30 to 40 minutes until the ice cream has reached soft serve state. Serve yourself a bowl of the deliciousness, then put the rest into a freezer container and let it firm up completely in the freezer. Enjoy!!!

[/print_this]
Would you like to get in touch, please don't hesitate to contact me via

my contact form.

Latest kitchen talk

Translate this blog

but don't expect it to make perfect sense!