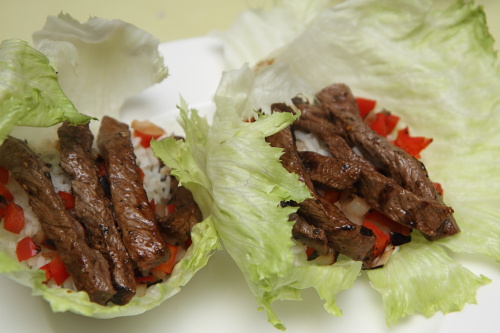 Sometimes, when it's too hot out, you just completely space out in the supermarket. You want to linger near the open refrigerators, walk around there for hours, until they kick you out stating 'we're closed now lady, and why the heck did you spend 5 hours here if all you're buying is a head of lettuce'.
Well okay, that didn't really happen, it could've though.
As I was spacing out and cooling off, I tried to figure out what to make for dinner. I'd already grabbed a bad of leftover frozen lime-cilantro rice, so I needed something to go with it.
I decided on lettuce wraps. I have no idea why I did that, but I did.
And while I was spacing out in the coolness of the refrigerators, I grabbed some simple steaks and a head of lettuce.
I got the rest of the groceries, went home and eventually started cooking. I marinated the meat, which turned out awesome. So awesome in fact, that I wish I'd measured out and written down the exact ingredients.
Then I grilled my stips of steak, and some onion and pepper, and grabbed my lettuce to assemble the whole thing, only to find out that there was no way or assembling nice looking wraps. In my 'oh-I-love-the-cold-so-much' state of mind, I'd grabbed iceberg lettuce. NowI love the crispyness of iceberg, but HOW ON EARTH, was I going to assemble ROLLS from crispy stuff???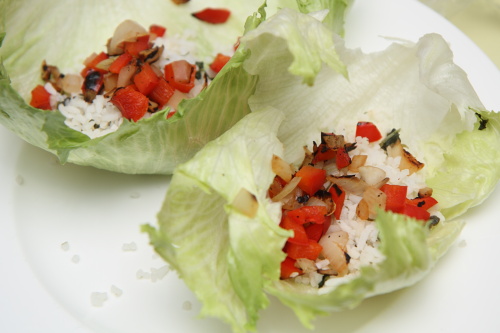 Needless to say, that wasn't going to happen. I ended up just dumping all of the ingredients on a leaf of iceberg and folded it close in a feable attempt to still make something wrap-like. They ended up, as you can see, as big, giant ugly non-wraps. They did taste great, so I'm not complaining too much. But I surely won't be serving this to company any time soon (or at least not before I try it out with other non-crispy lettuce!
 

[print_this]Mole inspired marinade (all the ingredients to taste)

vegetable oil
ground chili peppers
garlic powder
onion powder
a pinch of salt
some mexican chocolate (powdered)
some pre-made powdered mole mix
lime juice

Combine everything in a bowl, mix well, dunk your steak in it, let it marinade for a minimum of 15 minutes, or a couple of hours, in the fridge. Grill the steak, Enjoy!

[/print_this]
Would you like to get in touch, please don't hesitate to contact me via

my contact form.

Latest kitchen talk

Translate this blog

but don't expect it to make perfect sense!