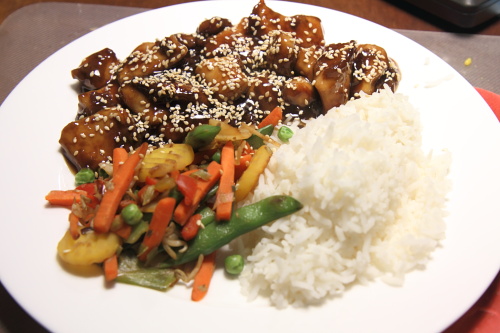 After the first time I sampled a piece of sesame chicken at a food court in a mall, I was sold. I know food-court-food isn't the epitome of good eating, but I just really liked the different flavors and textures of this piece of meat. I hadn't paid attention though, and forgot what it was.
When trying to explain the dish (which I now know was sesame chicken) to people, to try to either order it again, or figure out what the heck it was that I had eaten, I referred to it as 'sticky chicken'.  And maybe, just maybe, I should go back to that title, as really, the sesame on it is nice and all, but it really is all about the sweet sticky sauce coating!
I'm not the biggest fan of deep frying things. Now I know that traditionally sticky chicken (see how I'm trying to turn you onto that name?!) is deep fried before it's coated with the sticky sauce and enhanced with sesame seeds, but I just don't think that's neccessary. Just frying it in a skillet with a little drizzle of oil on the bottom, still produces a wonderful result. It's all in the coating people, and that'llstill be there without the deep fryer. The main difference is that it's slightly less crispy. I can deal with that. It's a good compromise for not having to deal with vast amounts of oil that need to be transferred and discarded afterwards.
I prefer my sticky chicken served with white rice and some stir fried vegetables, but you try it with some chinese noodles or fried rice or whatever you like. Just make sure not to skimp on the sauce!
Sticky chicken (recipe makes 2 large or 3 medium servings)

Marinade/coating

1 tbsp AP flour
1 tbsp cornflour
1/8 tsp baking soda
1/8 tsp baking powder
1 tbsp soy sauce
1-1/2 tsp dry sherry
1 tbsp water
heaping 1/2 tsp sesame oil
about 1 pound chicken breast, cubed

Sauce

1/2 cup chicken broth
1/2 cup white sugar
1 tbsp white vinegar
1 tbsp soy sauce
1 tbsp sesame oil
ground chili flakes to taste
1/2 clove garlic, pressed or grated
2 tbsp cornflour
1/4 cup water

Additional

1 tbsp toasted sesame seeds
Some oil for frying the chicken

Sift flour, cornflour, baking powder and baking soda together in a large bowl, add soy sauce, sherry, oil and water and mix until it's a smooth batter. Place cubed chicken in batter, mix until everything is well coated and let it marinade for about 20 minutes. Cook coated chiken in a frying pan or skillet with a tiny bit of olive oil until fully cooked and the pices have a nice brown (can be fairly dark, but not burnt) color.

While the chicken is cooking add every sauce ingredient except for water and cornflour to a saucepan. Stir frequently and let it boil for a couple of minutes. Dissolve the cornflour in the water and add to the sauce mixture. Get it back to a boil, while stirring, until the sauce starts to thicken and has gotten clear and glossy. Taste and add chili's, extra garlic (dried), some sherry or more sugar to taste.

Pour sauce into skillet with chicken, mix well and serve sprinkled (liberally) with sesame seeds. Enjoy!
Would you like to get in touch, please don't hesitate to contact me via

my contact form.

Latest kitchen talk

Translate this blog

but don't expect it to make perfect sense!