Despite the fact that in the last 2 days the temperatures here have spiked up and I can't think of anything but spring or summer dishes, I didn't want to hold out on my coq au vin. I made this a couple of weeks ago, but forgot about the pictures, so I didn't write about it.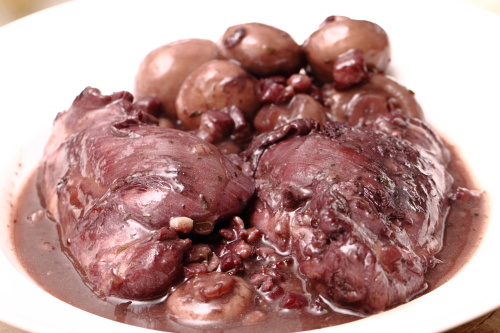 Coq au vin, to me, is fall or winter food. It's warm color and taste pulls you through the dreary cold evenings. So if you're in the same climate as me, you might want to hold out on making this for a while. There are more climates in the world though. And some people don't have such strong feelings about what kinds of food to eat in what weather.
There are tons of different recipes or methods for making coq au vin. The common denominator is red wine. Oh, and poultry. Officially rooster, but most people just use chicken. After all, it tastes like chicken, right?!
I actually use different ways of preparing coq au vin. Depending on what I have in my fridge I'll make it differently. In this instance, I had 4 small chicken thighs, which are perfect to make coq au vin.
If you have chicken and a bottle of red wine (one that you are willing to drink as well!) you're good to go. You'll probably have stuff around your fridge or pantry to make it great. Here's this version.
[print_this]

Coq au vin (recipe for 2)

4 small chicken thighs , loose skin removed
oil, butter and/or lard for browning
bacon bits
onion
garlic
mushrooms
a bay leaf
some juniper berries
pepper and salt (I use pink himalayan salt)
1 to 1 1/2 cup of red wine
chicken broth
flour for dredging and binding

Chop your onion and mince your garlic. Melt enough butter/lard to coat a Dutch oven or other deep, heavy bottomed, lidded pan, drizzle in a little olive oil as well. Start cooking the bacon bits in the pan. Dredge the chicken legs with a little bit of flour and salt.

Fry the onion and garlic until it's starting to look glassy, but not brown, then add the chicken. Turn frequently until the skin starts to brown a bit.

Add the mushrooms and cook them for a minute or two, they may get a little brown too (I use whole mushrooms, but you can chop them if you prefer) but not too much. Then pour in the red wine to partly cover the chicken. It doesn't need to be fully covered, but if you're not at least half way up the chicken, you need more wine. Add some juniper berries, some freshly ground black pepper and a bay leaf to the pan and let it simmer for a couple of minutes until the wine starts to reduce a slight bit. Add chicken broth to barely cover the chicken. You'll be flipping the chicken once in a while so it's okay if it's not fully covered in liquid.

Put the lid on the pan and let it all simmer for about 20 minutes. Turn the chicken over and give it another 10 minutes, then remove the lid so the liquid can thicken a bit more and give it another 10 minutes.

Put some flour into a cup, add some of the cooking liquid and whisk until you get a flour paste. continue adding liquid until the flour mixture becomes a pourable consistency. Pour it into the pan, stir and let it all simmer for about 10 more minutes to bind and thicken the sauce. Note: Don't start this process with too much flour, you can't take it out anymore. If you want to thicken the sauce more, just let it simmer longer or repeat the flour thing a second time. Thickening is easy and gives/keeps your flavor. Thinning it our will have you lose a lot of the flavor. That's sad!

Once the sauce is the desired consistency, serve your coq au vin with some mashed potatoes and green beans, or just in a deep dish with some crusty bread, or over sauerkraut mash. The possibilities are endless, and tasty!

[/print_this]
Would you like to get in touch, please don't hesitate to contact me via

my contact form.

Latest kitchen talk

Translate this blog

but don't expect it to make perfect sense!