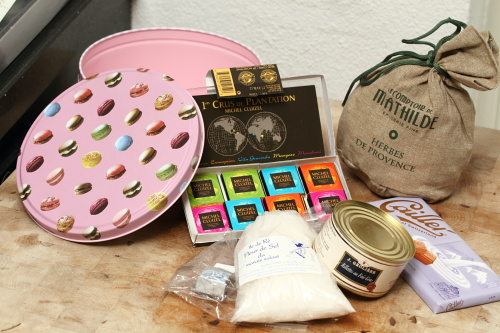 A little while ago I participated in a gift exchange on a cooking board I frequent. The lovely Jill from jbeancuisine got my name and sent me a lovely package from France. It included fleur de sel (and fleur de sel caramels), some lovely chocolates, a bag of herbes de provence and a can of rillettes au foie gras. Part of the package was wrapped in a lovely cookie tin (with pictures of macarons on there). I was extremely lucky to receive such a very very awesome package (as you can see above).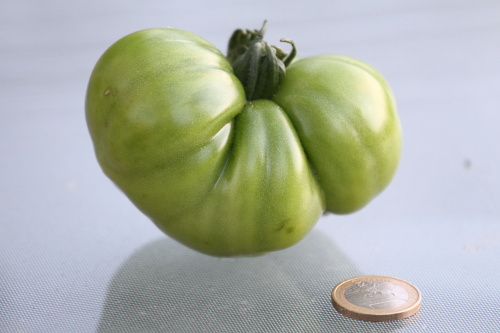 I have 2 insanely huge tomato plants in my garden. I actually picked 1 large tomato while it was still green, because it had a hole in it (nature, bugs, that sorta stuff). I had Laurens take a picture of it to show how big it was already. As you can see (compared to the 1 euro coin), they are sized nicely already. Just waiting for them to green up.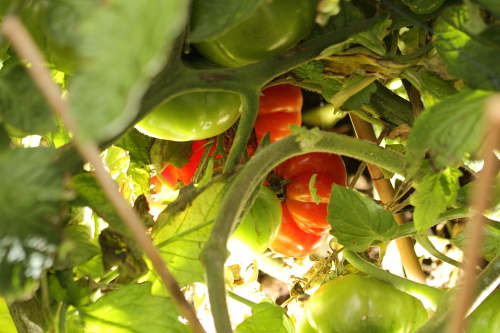 Now today, while I was weeding and removing some old/dead leaves I suddenly same a glimpse of red. I looked a little better and found 4 ripe tomatoes. Now mind you, our summer has been insanely bad, cold and wet, so everything is very green. Including the massive amounts of tomatoes that are on there. Finding the 4 red tomatoes was a sure treat. I picked them and cleaned them and while I was gardening Laurens took some pictures of the happy red things.
We're hoping for some nicer weather this coming week, so I'm anticipating more red tomatoes. I'm crossing my fingers, I like tomatoes!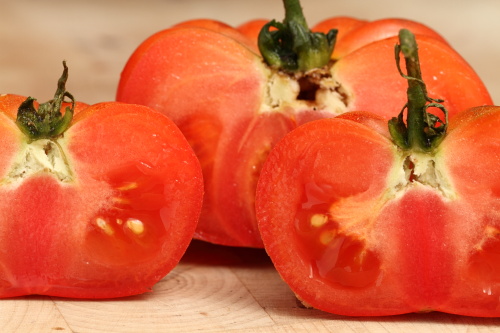 And a last fun thing around this kitchen is quite the surprise! Quotesearcher has been searching for their favorite foodie blogs on the web. They've narrowed it down to 32 so far. And guess what?! My little blog is among the nominated. As you can understand, I'm very excited. Not just the fact that I'm nominated, but the other blogs on that list make me all giddy inside. To be on a list with Juls' Kitchen, Canelle et Vanille, Use real butter and La Tartine Gourmande among others is already an honor to me.
Quotesearcher will poll for the favorite among the nominated until August 22nd. If you visit this blog and like it, please consider voting for me here.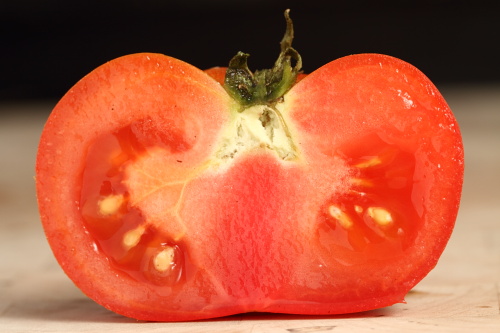 Would you like to get in touch, please don't hesitate to contact me via

my contact form.

Latest kitchen talk

Translate this blog

but don't expect it to make perfect sense!