(pici with breadcrumbs)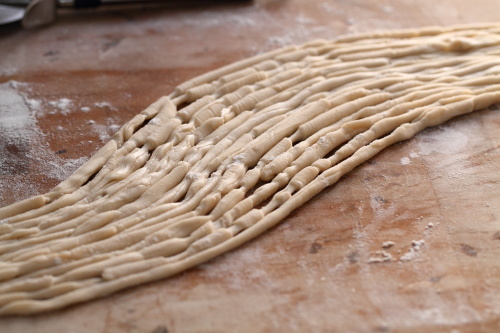 The reason I love Italian cuisine so much might just be the simplicity. The ease in which few but wonderful ingredients are changed into beautiful, flavourful dishes. No need for crazy expensive ingredients, just make sure your veggies are fresh, ripe and delicious and a tomato can become a feast.
I went searching for inspiration last week. I love to make my own fresh pasta. Heck, I love to make good quality dried pasta with nice sauces. But I'd fallen into the trap of the "few favorites". My simple ragu, or even simpler meatless tomato sauce, pesto, my favourite creamy gorgonzola sauce, pasta in brodo.
So I went to Jul's Kitchen. Browsing her blog I got jealous of the fact that she has all these beautiful ingredients available to her. Still, even though my tomatoes might not be as fresh as hers, her blog is an absolute inspiration to me.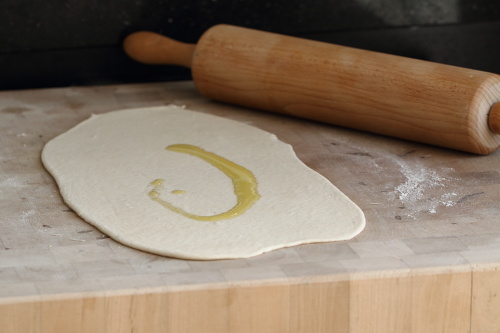 I stumbled upon Jul's nonna's recipe for "pici". A fresh, handrolled eggless pasta. She mentioned that the traditional sauce for pici is 'Aglione'. It sounded interesting, to say the least – and tasty. A fun new thing to try, something to get me out of my rut.
I googled 'Aglione sauce' and the first link I found talked about garlic and breadcrumbs. While tweeting with Jul she let me know that in fact, that wasn't Aglione sauce. It was "Pici con le Briciole". Pici with breadcrumbs.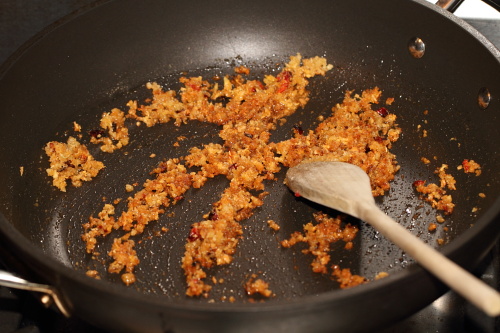 Making the pici dough was easy enough. It really is just flour, water and a pinch of salt. After rolling out the dough, Jul advised me to spread some olive oil over it, cover it with cling film and let it rest for about 2 hours.
Actually shaping the pici after cutting proved to be the hardest challenge. Fortunately they're not supposed to be perfectly uniform, but still, it took me quite a while. And despite the fact that it's highly therapeutic, I'm glad that Jul and I decided on a prop-swap during Food Blogger Connect in August. She agreed to bring me a special inverted rolling pin to make my pici from now on.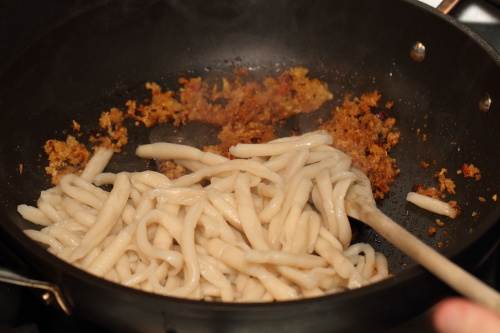 And this is something I love about the food-blogger-world. When you find – or meet – or stumble upon someone who is passionate about their specialty, they are so happy and willing to help you get into it too. Jul is a self-confessed 'Fresh Pasta Maniac', I've confided my love of Italian cooking and (fresh) pasta on here many times as well. She can help improve my skills – and get me some highly useful Italian kitchen tool – while I'll get her into a Dutch cookie tradition.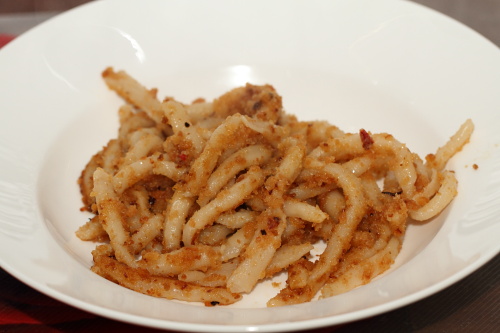 So that night, after my browsing and tweeting, Laurens and I ate pici con le briciole. I was able to present Laurens with an Italian meal he didn't even know existed. We both liked it, a lot! Now I can't wait to try the Pici all'Aglione.
Would you like to get in touch, please don't hesitate to contact me via

my contact form.

Translate this blog

but don't expect it to make perfect sense!