Currently viewing the category: "Baking"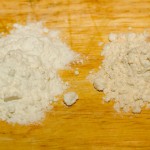 I love it when a tiny alteration, which hardly takes time at all, makes a huge difference to a recipe. The sheer joy of that 'eureka-moment' when you figure out a way to improve on something great. Like the moment when Ruth Graves Wakefield decided to dump a bunch of chocolate pieces into [...]
Continue Reading

→
Would you like to get in touch, please don't hesitate to contact me via

my contact form.

Latest kitchen talk

Translate this blog

but don't expect it to make perfect sense!