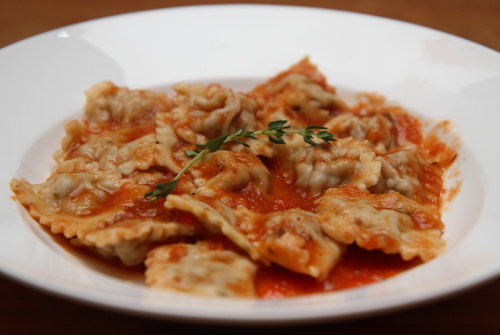 I've been craving ravioli for at least a week now. Yes, I make pasta a lot, but ravioli is usually reserved for 'special occasions' as it's much more work than regular pasta, and I love non-filled fresh pasta about as much. Having the day off today was enough of a special occasion to warrant making ravioli. Now the cool thing about ravioli is that you can make about a million different fillings. Whatever you think tastes good with fresh pasta, you can make ravioli out of. I've actually be wondering if I could make a slightly sweeter pasta dough (by adding some powdered sugar or something) and fill it with nuts and/or chocolate. I'm sure it'd work – not sure how great it'd taste. Must try out soon!
But I digress, I decided to make ravioli tonight. I'd recently bought a second ravioli mold, with smaller pouches, so I figured I should make a less lumpy filling than the napoletana. Sure, I could cut everything up a little finer than usually, but I actually love the lumpiness of the filling in that recipe, so why would I. Plus, what's the fun in only making your staples every time. How are you supposed to develop new favorites, if you don't try making them first.
Walking through the grocery store I did have my ravioli in mind. I figured I still had some veggies I could use, if all else failed, or cheese. Cheese ravioli is good, right? While I was thinking about the different cheese options, my eye caught a package of organic ground beef. Remember my rant about grocery store meats the other day. Well, organic meat doesn't have that problem. About a nanosecond later I saw a box of fresh mixed italian herbs, and I was sold. Ground beef and fresh herbs, it would be.  Yumm.
So that was our primo, our first course. As usual, I made a double serving of ravioli. When will I ever learn that filled pasta needs less, not more? Probably never. No problem though, we'll always finish it, or if I really make too much, it's easy enough to freeze. To make it a little different/more interesting with such a simple filling, I made a thyme pasta. I took a couple of springs of fresh thyme. Pulled the leaves off and added that to the flour before making the dough. When rolling the dough the leaves will break and spread out, so in the end you only have green specks left over, but oh the smell! (and taste!)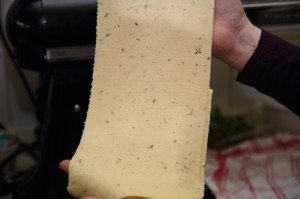 I made my easy peasy cheaty tomato sauce to serve with the ravioli and grated some parmesan cheese over it at the table. A big success, the entire dish! Very very nice combo!
Now for our secondo we needed something lighter. A small dish, as we had a double serving of ravioli already. So I made a simple salad (red pepper, tomato, red onion, cilanto and feta cheese with some salt and pepper and olive oil for dressing) and some bite size herb-hamburgers. The burgers were made with the leftover ravioli stuffing and some more herbs and seasoning. I grilled them for a short time on both sides (on a grill pan) and they came out wonderful. Just one bite a piece. As L said: nom nom nom!
Ground beef and herb ravioli (recipe for 4 as a starter, 2 as a main course)

1 batch of fresh pasta (made with 150 grams flour)
a couple of sprigs of thyme
a couple of sprigs of rosemary
about 250 grams of ground beef (preferably organic)
salt
pepper
1 egg
garlic powder

First off, you won't be using all the ground beef for the ravioli, I used whatever was left after filling for the mini-burgers.
Start making your pasta dough, before you start kneading, add the thyme leaves, mix them in well. Roll the dough, don't make it too thin, I go to setting 5 on my machine. Just 1 to 2 settings thicker than when making linguini or fettucini.
Combine the ground beef and egg and add rosemary, pepper, salt and garlic powder to taste. Take a good amount of rosemary! Mix well.
Place a sheet of pasta over your ravioli mold, fill with ground beef mixture, be sure not to overfill, place second sheet over filling, roll to close tight and remove ravioli's from mold.  (More detailed explanation in the first ravioli post.) Repeat until you're out of pasta (or save some pasta and make it into another style. 1 mold full is a 2 person first course, or a 1 person main course).
Cook for 7 to 9 minutes in a large pot of hard boiling water. Serve with a simple sauce and some parmesan.

Mini herb-hamburgers

Leftover ground beef mixture from ravioli
garlic powder
pepper
fresh sage
fresh thyme

Combine the leftover meat mixture with some more pepper and garlic powder and add some more fresh herbs. I used thyme and sage (it already had rosemary in there). Form small patties and grill for 1 to 1,5 minutes on each side (Don't leave them pink, they have raw egg in them!)
Would you like to get in touch, please don't hesitate to contact me via

my contact form.

Translate this blog

but don't expect it to make perfect sense!