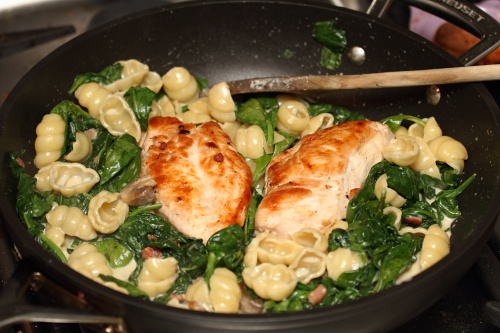 Once in a while, when we're in a hurry, or busy, or working late, I'll be lazy and prepare a store bought meal. The one I usually have laying around is a bag of frozen pasta/meat/veggie mix with sauce cubes. Sounds appetizing, no? They're actually not even all that bad, as far as store bought meals go that is.
This is not that.
I had some spinach that needed to be finished, 2 chicken breasts, and some cream that was nearing it's due date. I had thought to make a salad, but the weather turned on me and I figured I wanted something warm.
Now usually, as regular readers know, I do pasta as a primo, a first course, and have veggies and meat with the second course. A one course pasta meal is a rarity in this house, except for those pre-made dinners.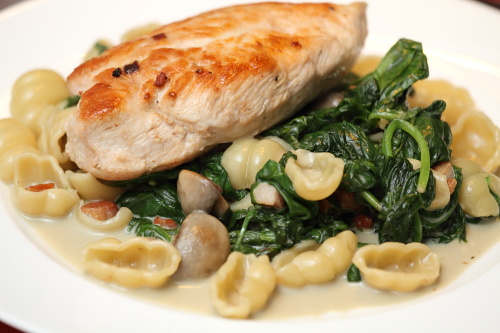 I just started boiling the pasta, fried some bacon and sauteed the chicken in the bacom grease. I added some mushrooms I still had left. Still figuring I would do two courses, I looked for a pasta sauce and found that I only had a little bit of pesto left. I decided to mix things up a bit. I added some cream to the chicken pan, cracked some pepper in there and then added the spinach to the pan. It hit me. I was making the frozen bagged dinner from scratch.
As the pasta was done, I drained it, mixed it in with the spinach and chicken and served it. It was much much better than the bagged version.
I'm sure I'll still eat the frozen version once in a while. After all, we're both busy with work and such and once in a while cooking just doesn't fit into the schedule, no matter now much I like it. In the mean time I will add this homemade version to my repertoire.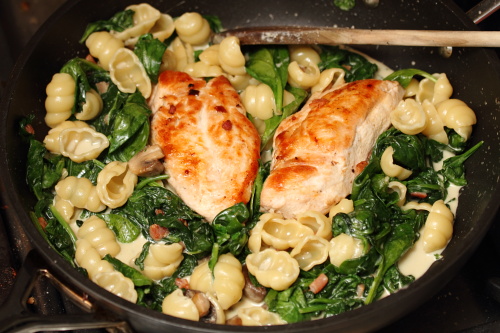 Would you like to get in touch, please don't hesitate to contact me via

my contact form.

Translate this blog

but don't expect it to make perfect sense!