Currently viewing the tag: "Pasta"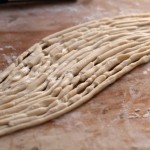 (pici with breadcrumbs)
The reason I love Italian cuisine so much might just be the simplicity. The ease in which few but wonderful ingredients are changed into beautiful, flavourful dishes. No need for crazy expensive ingredients, just make sure your veggies are fresh, ripe and delicious and a tomato [...]
Continue Reading

→
Would you like to get in touch, please don't hesitate to contact me via

my contact form.

Latest kitchen talk

Translate this blog

but don't expect it to make perfect sense!